Enabling additional language packs
This topic provides information on enabling additional language packs.
GFI HelpDesk supports nine different languages including English. You can enable these languages like the one below:
Enable the language from Admin control panel by navigating from OPTIONS panel to Languages > languages and clicking.
If you want to translate any language yourself, you can export standard English language by going to Admin Control Panel(Languages > Import/Export) and translate it accordingly before importing it back into

GFI HelpDesk

.
To download any additional languages, please log in to your

GFI HelpDesk

account. Find the language of your choice and press the Download button.
Troubleshooting
If you were to have an error similar to the one below after enabling language packs:
Undefined index: last modifiedby (./__swift/cache/53ad2668017573721b216d7d5c0f2207.php:44)
It means that the specific phrase lastmodifiedby does not exist for a language pack you have applied.
To fix this, do the following:
Login to Admin Control Panel and go to Languages > Phrases.
Select the implemented language pack from the drop down.
Insert Phrase and enter the information like shown below.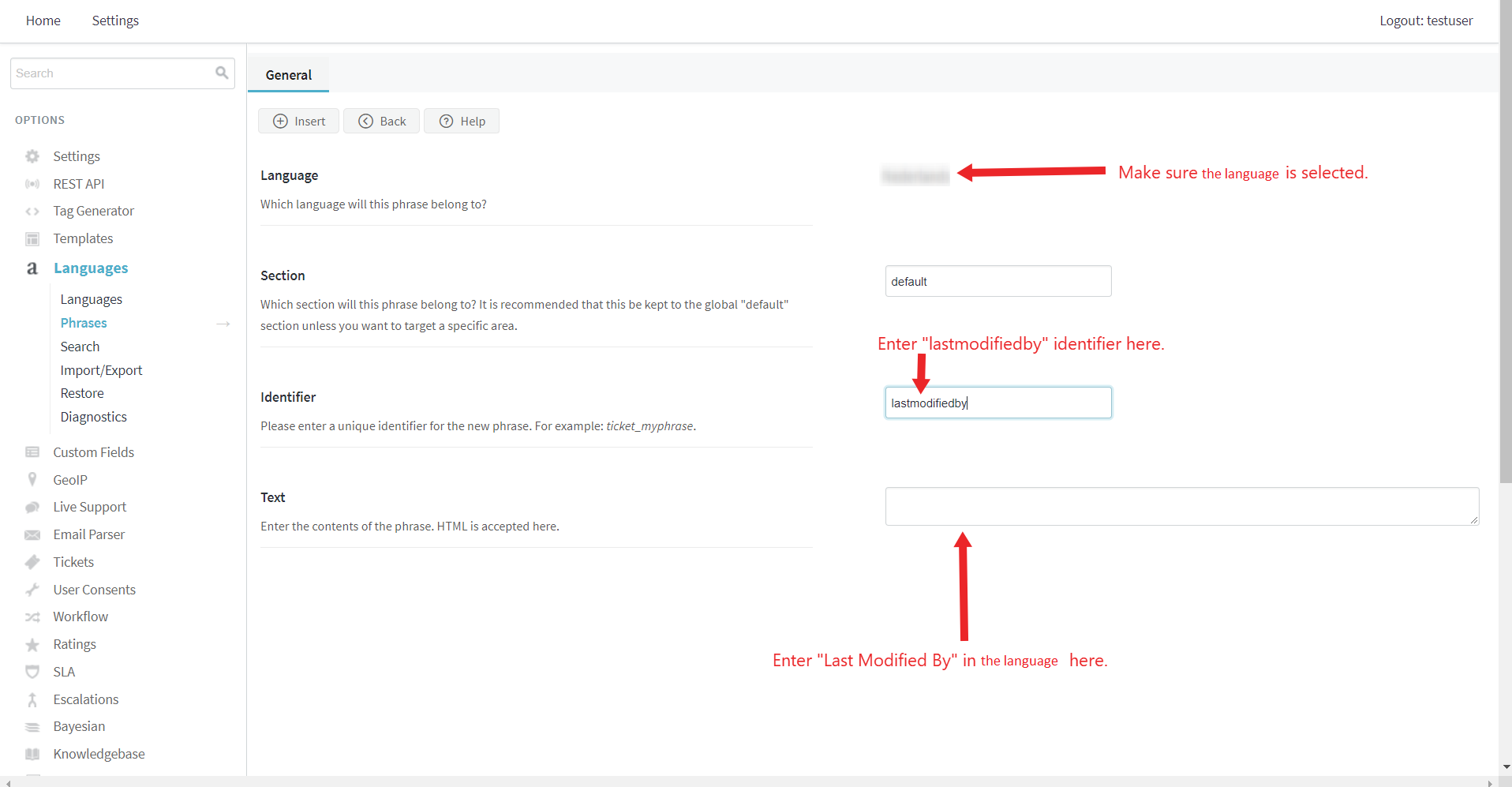 FAQs
What is language-en-gb.xml file used for?

This is a language file for English (U.K.). You can import it in your GFI HelpDesk from Admin CP > Languages > Import/Export.

What is geoiplite.tar.gz file used for?

This is GeoIP database which is used for visitor information in GFI HelpDesk Desktop application.

To Configure GeoIP , please follow the below-mentioned steps:

Extract the archive and you get the folder "geoiplite.tar.gz".
Copy all the contents of the folder "geoiplite.tar.gz" to the product file "../__swift/geoip".
Access admin control panel, go to GeoIP, and update the GeoIP database .

Please note, after copying Geo lite files in your geoip folder, do remember to configure the GeoIP by going to Admin CP > GeoIP. Here you need to click "UPDATE" respectively in all following four menu tabs:

City ( Locations )
City ( Blocks )
Organization

It takes some time to index the geo lite files in the database when you click on update.