How to configure
Kerio Operator

to connect to Xphone.cz

NOTE

This information is designed for Kerio Operator 2.4 and newer.

Learn how to connect Kerio Operator to a SIPSession Initiation Protocol - A communication protocol used for voice and video calls in Internet telephony or private IP telephone systems. account with Xphone CZ. We assume that you already have a Xphone SIP account and know your SIP credentials. (If you do not know the credentials, login to your account at www.xphone.cz, go to Setup and click View next to your SIP authentication name.
Prerequisites
Before starting this procedure, ensure you have:
Your phone number, as provided by xphone.cz. For exzample, 123456789.
Your username and password.
SIP proxy address. Currently, sip2.xphone.cz.
All of this information can be found on logging in to http://www.xphone.cz, under Nastaveni / Settings and then Prihlasovaci udaje / login credentials.
Configuration
Log in to the

Kerio Operator

admin interface, go to Call Routing section and click Add a SIP Interface.
Name your new interface and enter your assigned phone number.
Click Next.
Select the desired internal extension (queue, script, conference or group) and optionally enter an outbound prefix

Country codes, area codes, a number, or a set of numbers that are dialed before the telephone numbers.

.
Click Next.
Enter sip2.xphone.cz in Domain (IP address/hostname), enter your username (not your phone number) in Username and your password in Password.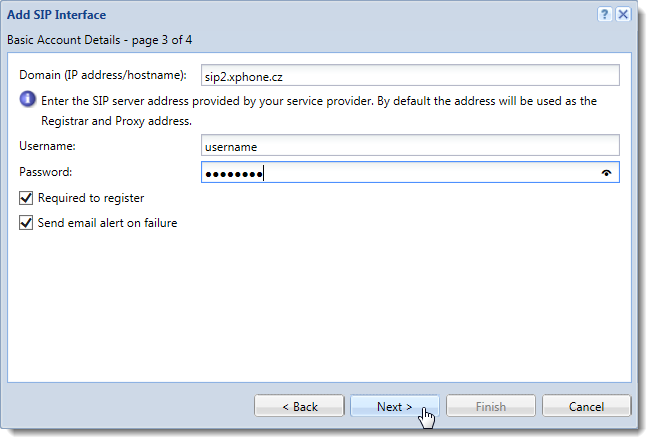 Click Next.
Verify the information in the Summary section and click Finish.
Open the route configuration and go to the Codecs

Programs used in streaming media and audio/video conferencing that encodes or decodes digital data streams and signals.

tab and correct the supported codecs list to match those supported by Xphone. See your xphone.cz account for exact information - https://www.xphone.cz/zone_user_settings_codecs.php).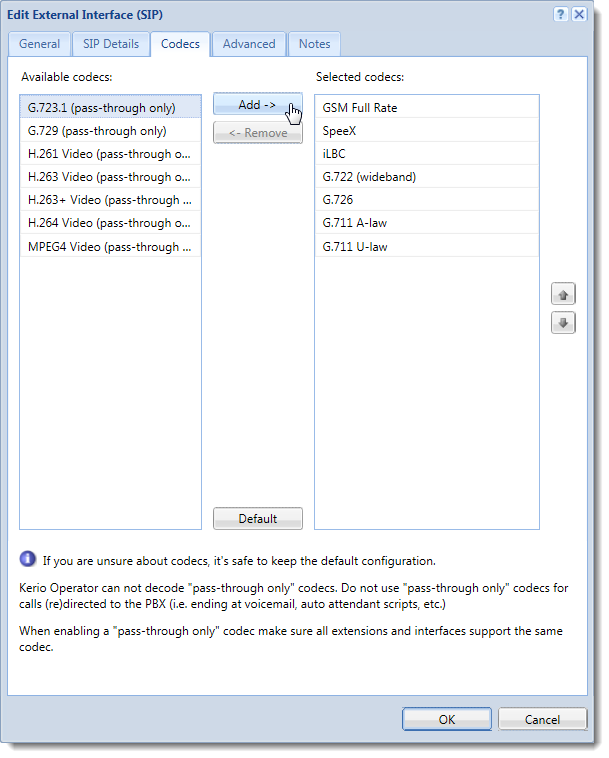 Press OK.