Connecting
Kerio Operator

to TelePacific

You can configure a SIP trunkWide range of external numbers provided by a SIP provider. with Telepacific for dialing to the public telephone network. This topic describes the necessary configuration in Kerio Operator.
Prerequisites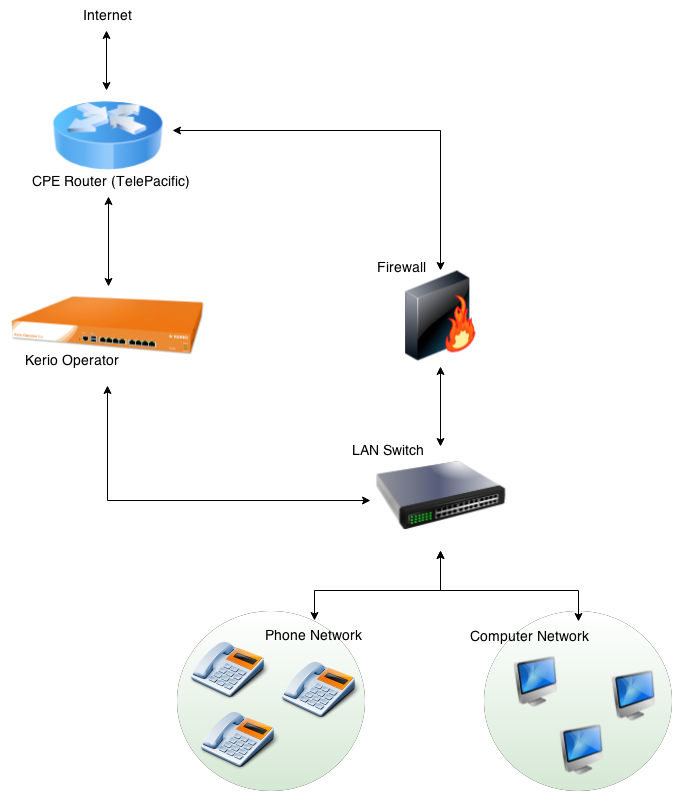 Configuring TCP/IP parameters in
Kerio Operator
Configure the interface connecting to the CPE Router with a private IP address that you assign manually (e.g., 192.168.10.11/24). Do not assign a gateway to this interface. Configure the interface connecting to your local network with a static, or dynamic IP address that your DHCPDynamic Host Configuration Protocol - A protocol that automatically gives IP addresses and additional configuration to hosts in a network. server assigns to Kerio Operator. Use this interface to connect to the internet via the local area network.
Log in to the administration interface
Go to Configuration > Network
Edit the interface connecting to the CPE router and assign the TCP/IP parameters for this private network
Edit the interface connecting to the local network and verify that the TCP/IP parameters are valid for the local area network
Click Apply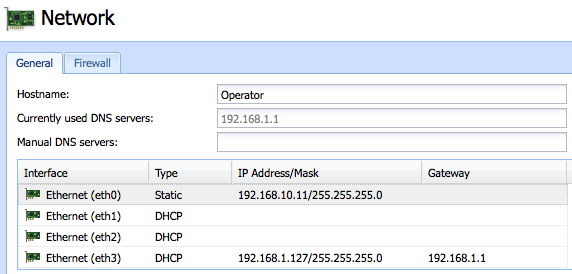 Configuration
Log in to the administration interface and go to Configuration > Call Routing
Click Add a SIP

Session Initiation Protocol - A communication protocol used for voice and video calls in Internet telephony or private IP telephone systems.

Interface and <![CDATA[ ]]>enter an interface name (e.g. "Telepacific")
Choose New provider and enter your telephone number (use a comma to separate multiple phone numbers)
Click Next
Choose the extension to receive incoming calls and leave the dial out prefix

Country codes, area codes, a number, or a set of numbers that are dialed before the telephone numbers.

empty
Click Next.
Specify the IP address of the CPE Router (e.g., 192.168.12.1) and do not change the default port
Uncheck Required to register and leave the Username and Password fields empty
Click Next and Finish