Connecting
Kerio Operator

to Easybell
Prerequisites
To connect your Kerio Operator to Easybell, you need the following information:
Configuration
In the administration interface of

Kerio Operator

, go to Configuration > Call Routing > Interfaces and routing of incoming calls.
Click Add SIP

Session Initiation Protocol - A communication protocol used for voice and video calls in Internet telephony or private IP telephone systems.

Interface.
Key in a name for the interface.
In the With external number field, key in the range of your numbers.
Click Next.
Select the extension to which you want

Kerio Operator

to redirect all calls to unassigned (unused) extensions.
Optionally, in the Prefix to dial out field, you can key in a prefix

Country codes, area codes, a number, or a set of numbers that are dialed before the telephone numbers.

for outgoing calls.
Click Next.
In the Domain (IP address/hostname) field, key in sip.easybell.de.
Key in the username and password.
Select the Required to register option.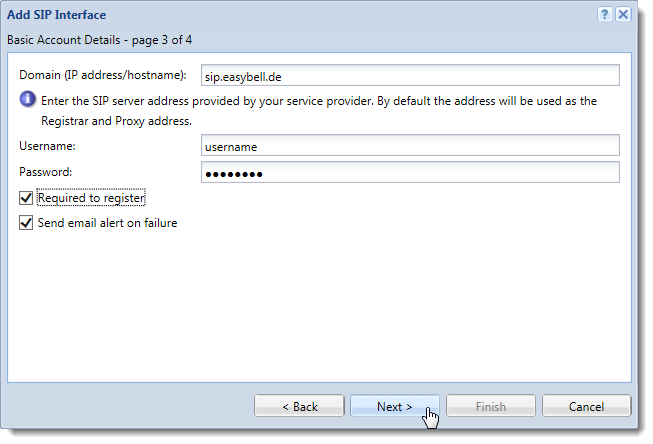 Click Next.
Verify the information in the Summary section and click Finish.
Double-click the created outgoing route for this interface.
In the Calling number (Caller ID

A service that provides information about caller's number.

) section, select Map extensions to external numbers based on the incoming routing table and click OK.