How to configure
Kerio Operator

to connect to ha-vel.cz

Learn how to connect Kerio Operator to a SIPSession Initiation Protocol - A communication protocol used for voice and video calls in Internet telephony or private IP telephone systems. account with ha-vel.cz.

NOTE

This information is designed for Kerio Operator 2.4 and newer.
Prerequisites
We assume that you already have a Ha-vel SIP account and know your SIP credentials. (If you do not know the credentials, login to your account at https://ha-loo.ha-vel.eu/cz/index.php).
Before starting this procedure, ensure you have:
Your phone number registered with ha-vel.cz. We assume it as 123456789 in our example below.
Your password.
SIP proxy address (currently ustredna.ha-vel.cz).
These details can be found by logging into https://ha-loo.ha-vel.eu/cz/index.php, under Information / Informace and SIP/IAX Settings / Nastaveni SIP/IAX sections .
Configuration
Log in to the

Kerio Operator

admin interface.
Go to the Call Routing section and click Add a SIP Interface.
Name your new interface and enter your assigned phone number.
Click Next.
Select the desired internal extension (queue, script, conference or group) and optionally specify the outbound prefix

Country codes, area codes, a number, or a set of numbers that are dialed before the telephone numbers.

.
Click Next.
Enter ustredna.ha-vel.cz into the Domain (IP address/hostname) field.
Key in the assigned phone number into Username field and password into Password field.
Click Next.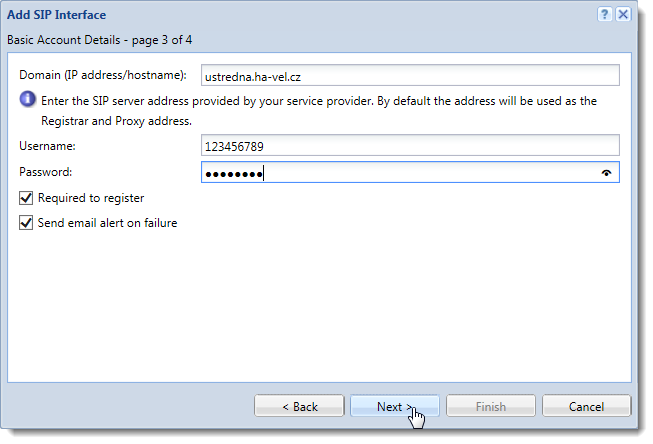 Open route configuration again, go to the Codecs

Programs used in streaming media and audio/video conferencing that encodes or decodes digital data streams and signals.

tab and remove unsupported codecs (SpeeX, G.722 and G.726 codecs).
Click OK.