Kerio Operator

Softphone for mobile devices

Kerio Operator Softphone is a software phone client for Android and iOS. Kerio Operator Softphone works with Kerio Operator or any other SIPSession Initiation Protocol - A communication protocol used for voice and video calls in Internet telephony or private IP telephone systems. based VoIPVoice over Internet protocol - A digital telephone system that uses the internet as the transmission medium, rather than the PSTN. service.

Kerio Operator Softphone supports auto-configuration with Kerio Operator. For more information refer to Provisioning of Kerio Operator Softphone for mobile devices.

WARNING

Do not use wildcard certificates. Kerio Operator Softphone follows the RFC 5922 standard.
System requirements
For Kerio Operator Softphone system requirements, see the Kerio Operator product pages.
Installing
Kerio Operator

Softphone

You can install Kerio Operator Softphone from:
Apple App Store on your Apple iPhone
Download APK on your Android

NOTE

To allow installation of APK from sources other than the Google Play Store, ensure that Unknown Sources is enabled. Go to Menu > Settings > Security > and check Unknown Sources.
Configuring
Kerio Operator

Softphone
Tap the

Kerio Operator

Softphone icon on your device.
In the Provisioning Url field, type the

Kerio Operator

domain name. Use the following format: https://address
Type your

Kerio Operator

username and password. Use the same credentials as the

Kerio

Phone interface.
Tap Login.
The account is fully configured and you can make a call.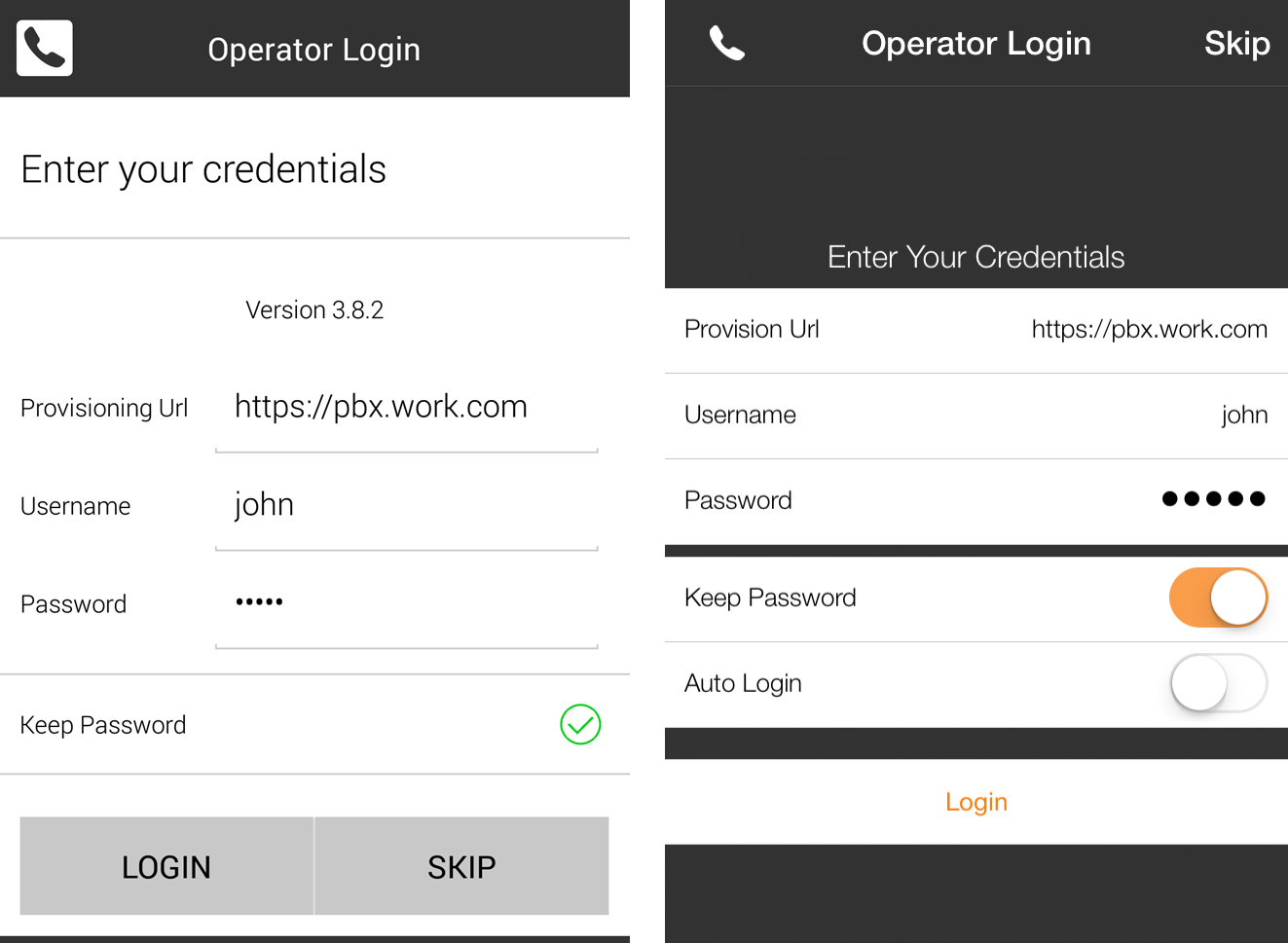 Using the self-signed certificate from your
Kerio Operator

server

If you use a self-signed certificate created in your Kerio Operator server, you must manually download and install the certificate on your device:
In the browser on your device, go to

Kerio Operator

Softphone. For more information, see the

Kerio

Phone section in the Logging into

Kerio Operator

topic.
Tap Download SSL certificate. If the downloading fails, see the SSL certificate troubleshooting section.
Install the SSL certificate.
You can then log into Kerio Operator Softphone.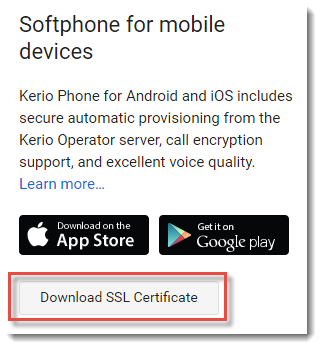 SSL certificate troubleshooting
If the downloading of the SSL certificate fails:
Configuring mobile data network
By default, only Wi-Fi connection is allowed on mobile devices. If you want to use a mobile data network:
In

Kerio Operator

Softphone, go to Settings > Preferences.
In the Mobile Data Network section, allow Use When Available.
In the same section, select the Allow VoIP Calls option.
You can now connect via a mobile data network.