How to configure
Kerio Operator

to connect to Voicepulse.com

NOTE

This information is designed for Kerio Operator 2.4 and newer.

Learn how to connect Kerio Operator to a SIPSession Initiation Protocol - A communication protocol used for voice and video calls in Internet telephony or private IP telephone systems. account with Voicepulse Inc. We assume that you already have a Voicepulse SIP account and know your SIP credentials. (If you do not know the credentials, log in to your account at www.voicepulse.com, go to Setup and click View next to your SIP authentication name.
Prerequisites
Before starting this procedure, ensure you have:
Your telephone number assigned to you by Voicepulse. For example +1 555 123 4567.
Your SIP authentication name – note this is not the user name you use to log into Voicepulse web interface. The SIP authentication name is typically something like VaSBFLM12a".
Your SIP password

A password for authenticating provided by a SIP provider.

. Again, this is not the password you use to login to Voicepulse web interface. It is the second part of your SIP credentials. The password is typically something like u2TYRUa878.
Configuration
Log in to the administration interface of your

Kerio Operator

and go to the Call Routing screen.
Click Add a SIP Interface.
Enter a interface name, choose the option New provider and enter your telephone number with 1 at the beginning.
Click Next.
Choose the extension to receive incoming calls on and enter the prefix

Country codes, area codes, a number, or a set of numbers that are dialed before the telephone numbers.

that will be used to dial out. For example, 9.
Click Next.
Enter jfk-primary.voicepulse.com as the Domain (IP address/hostname). Use sjc-primary.voicepulse.com if you are closer to San Jose, CA than to New York.
Enter your SIP authentication name and password.
Ensure Required to register is checked.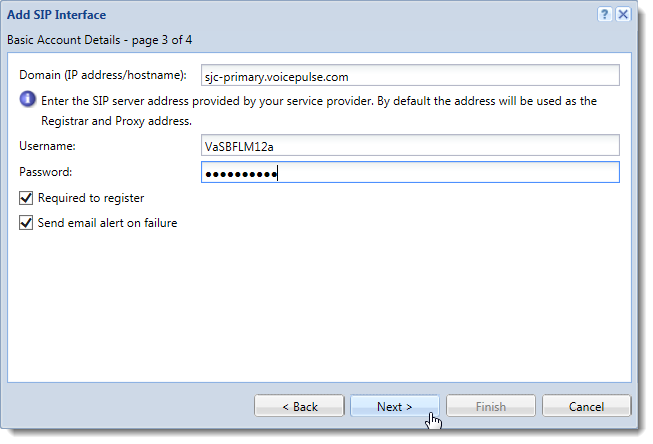 Click Next.
Verify the information in the Summary section and click Finish.
Your connection to Voicepulse is now configured.