Connecting
Kerio Operator

to Vitelity

NOTE

This information is designed for Kerio Operator 2.3.5 and older.

You can configure a SIP trunkWide range of external numbers provided by a SIP provider. with Vitelity for dialing to the public telephone network. This topic describes the necessary configuration in Kerio Operator. For more information refer to Connecting to VoIPVoice over Internet protocol - A digital telephone system that uses the internet as the transmission medium, rather than the PSTN. service providers.
Prerequisites
After setting up an account with Vitelity, you should be given the following information from the provider:
Service: Vitelity LLC VoIP
Username: *<your_user_name>
Password: *<your_password>
Balance: $<account_balance>
The username and password above are for managing your Vitelity account. They are not used within Kerio Operator for any reason.
You then need to set up the following on the Vitelity admin console:
The following screenshots serve as a guide: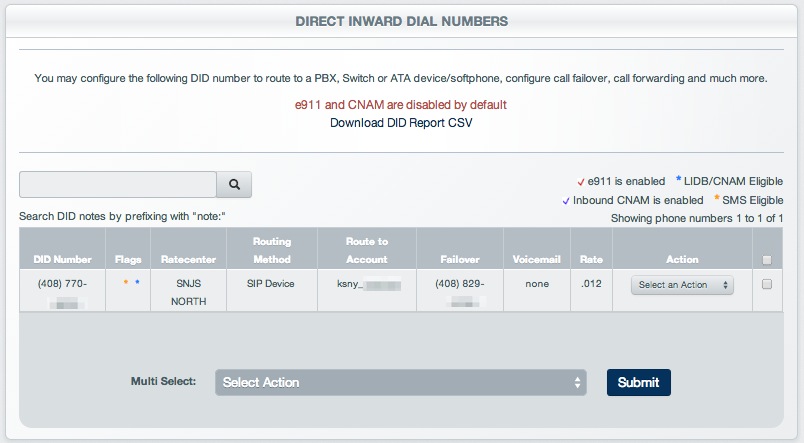 After all the settings as described above, you need the following information for configuring Kerio Operator:
The telephone number (or numbers) assigned to you.
Login (sometimes referred to as Trunk #, User Name or User ID).
Password
Register Server (inbound34.vitelity.net).
Outbound Server (outbound.vitelity.net).
Additional information needed for configuration under Support > Generic Sip Support (for example, a different Register Server: sip34.vitelity.net).
Configuration
Log in to the web administration interface of

Kerio Operator

.
Go to Configuration Call Routing.
Click Add SIP Interface.
Enter an interface name (e.g. "Vitelity").
Choose New Provider and enter your telephone number (you may need to add a 1 at the beginning of the telephone number). Use a comma to separate multiple phone numbers.
Click Next
Choose the extension to receive incoming calls
Enter a dial out prefix

Country codes, area codes, a number, or a set of numbers that are dialed before the telephone numbers.

if necessary.
Click Next.
Specify the hostname provided by Vitelity under Support > Generic Sip Support (sip34.vitelity.net) and the default port 5060.
Specify the Username (login and password values as you configured on Vitelity's sub account settings (see Figure 2 above).
Enable User ID differs from the telephone number and enter your Vitelity login (the same string that is in the username field).
Enable the option to Register with registrar.
Click Finish.
In order to transmit the correct CallerID information on outbound calls, you must edit the interface that you created. Do the following:
Select the interface you just created (e.g. Vitelity) and click Edit.
Click the Advanced tab
Check the box Use SIP user ID in REGISTER request only
Click OK to save