Connecting
Kerio Operator

to Deutsche Telekom
Prerequisites
To connect your Kerio Operator to Deutsche Telekom, you need the following information:
Configuration
In the administration interface of

Kerio Operator

, go to Configuration > Call Routing > Interfaces and routing of incoming calls.
Click Add SIP

Session Initiation Protocol - A communication protocol used for voice and video calls in Internet telephony or private IP telephone systems.

Interface.
Key in a name for the interface.
In the With external number field, key in your numbers.
NOTE
If you have multiple numbers from Deutsche Telekom, write individual numbers separated by a comma (for example, 555 5501, 555 5502, 555 5503, 555 5504) or use a dash to define the range of numbers (for example, 555 5501—555 5504).
Click Next.
Select an extension that receives all calls from the provider by default.
Optionally, In the Prefix to dial out field, you can key in a prefix

Country codes, area codes, a number, or a set of numbers that are dialed before the telephone numbers.

for outgoing calls.
Click Next.
In the Domain (IP address/hostname) field, key in tel.t-online.de.
Key in the username and password.
Select the Required to register option.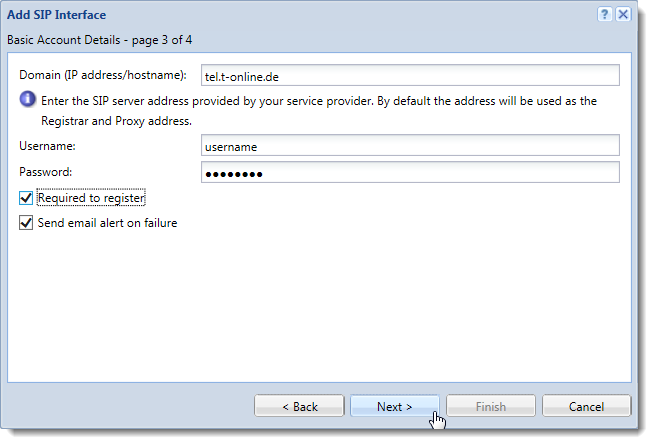 Click Next.
Select the Edit details of the created interface option and click Finish.
After you finish the configuration wizard, the Edit External Interface (SIP) dialog box opens:
In the Proxies and Registrar section, enable the Periodically resolve domain names option.
Click OK.