Connecting
Kerio Operator

to SIP.US and SIPTRUNK.COM

You can configure a SIP trunkWide range of external numbers provided by a SIP provider. with SIP.US or SIPTRUNK.COM for dialing to the public telephone network. This topic describes the necessary configuration in Kerio Operator.
Prerequisites
Accounts you setup in SIPSession Initiation Protocol - A communication protocol used for voice and video calls in Internet telephony or private IP telephone systems..US or SIPTRUNK.COM include the following information (available in the SIP.US or SIPTRUNK.COM control panel) which is required during the configuration with Kerio Operator:
The telephone number or numbers assigned to you.
Trunk #
Password
Configuration
Log in to the web administration interface of

Kerio Operator

.
Go to Configuration > Call Routing.
Click Add a SIP Interface.
Assign an interface name.
Choose New provider and enter your telephone number (use a comma to separate multiple phone numbers).
Click Next.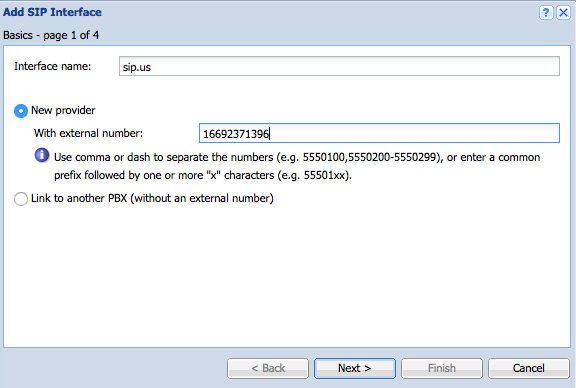 Choose the extension to receive incoming calls.
Enter a dial out prefix

Country codes, area codes, a number, or a set of numbers that are dialed before the telephone numbers.

if necessary.
Click Next.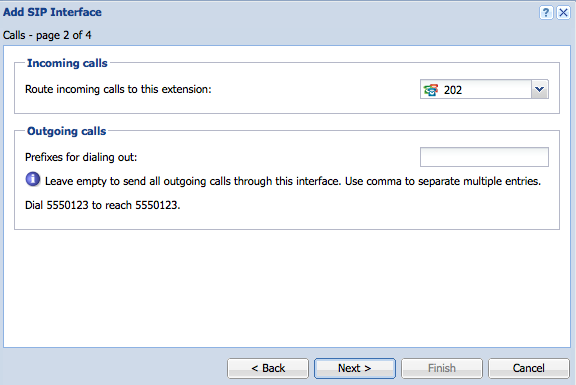 Specify the domain (gw.sip.us for SIP.US) or (gw.siptrunk.com for SIPTRUNK.COM)
Specify the Username (Trunk #) and Password (Password) values.
Enable Required to register.
Click Next.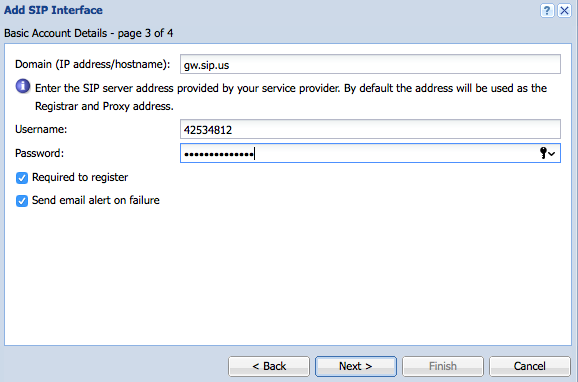 Review your settings and click Finish.