Licensing and subscription details
A valid license key is required by GFI WebMonitor. When the product is installed for the first time, the configuration wizard guides you to this area to enter the key you received when downloading the product. For more information refer to Licensing information.
NOTE
The Configuration Wizard is launched automatically after installing GFI WebMonitor or manually from the Settings menu.
In GFI WebMonitor, users can be excluded from being counted against the license. For more information refer to Configuring a Licensing Exclusion List.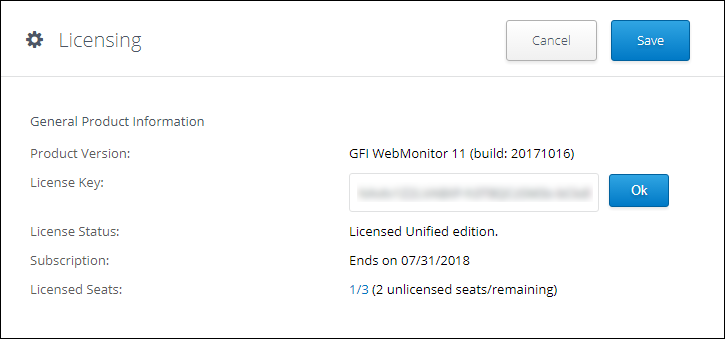 The Licensing screen provides the following information:
Option
Description
Product Version
Shows the currently installed version of

GFI WebMonitor

and the build number.
License Key

For a new GFI WebMonitor installation, key in your license key in this field and click Update License. For an existing GFI WebMonitor deployment, this field displays the current license key.

NOTE

For users who wish to try out the product, an evaluation license key can be acquired from the GFI Software Ltd website. Click register to fill in the registration form and receive your evaluation key by email.

License Status
Defines the status of the current license, for example, whether the license key is active, expired, invalid or a trial license.
Subscription
Shows the date of expiry of the current license.
Licensed Seats
Displays the number of licensed users and how many are currently active on the network.
Updating the license
NOTE
License activation requires an Internet connection.
To update the current product license key:
Click Ok and click Save.
See Also: