Working with Policies
Policies enable you to exercise control over Internet activity that can effect security, productivity, performance and legal issues.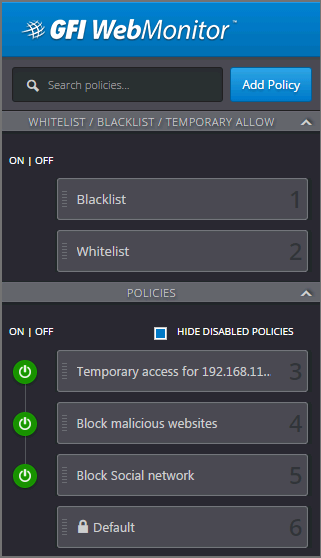 You can create as many new policies as required, either by configuring each new policy from scratch or by cloning existing policies. Configured policies are displayed as a list in the left sidebar. Click the switch next to configured policies to activate or deactivate as required.
IMPORTANT
GFI WebMonitor policies work in a sequential order. The policies at the top take precedence over the ones beneath. It is possible to change the order of the configured policies by dragging a policy to the desired place in the list, however this may have repercussions on your setup.
A default policy is automatically created when GFI WebMonitor is installed. This is the fallback policy – if no policies are matched for a given situation, the default policy will apply.
This policy is configured to Allow all Internet traffic to Everyone. You can change the policy type to Block, but you cannot delete or disable this default policy. New policies are added on top of the default policy to provide monitoring and filtering options as required.
2 additional policies are also enabled by default when GFI WebMonitor is installed:
The default policies:
Apply to everyone
Can be edited - customization of default policy is limited
Cannot be disabled or deleted
For each configured policy, GFI WebMonitor provides a summary of the configured values. These values include:
Option
Description
Policy Type
There are 2 types of policies, Default Policy or Custom Policy.
Policy Action
Displays the action the policy will take when the configured criteria are met. The action can be Allow, Block, Warn or Monitor.
Status
Shows if the selected policy is Active or Inactive.
Active Since
If the policy status is Active, the summary displays the date since the policy has been active.
Applies To
Displays the number of users, groups or IPs the selected policy applies to.
Allow, Warn, Monitor or Block
This area shows how many websites, applications or file types are affected by the configured policy action.
Thresholds
Displays configured limits based on bandwidth, hits or time.
Notify
Shows any configured notifications. Can be User, Administrator

The person responsible for installing and configuring GFI WebMonitor.

or both.
Scheduled on
Displays the period during which the selected policy is active.
Exceptions
Displays configured exceptions that are not affected by the policy.
See also: