Installing
GFI WebMonitor
This section describes how to run the installation of GFI WebMonitor.
Before running installation wizard, ensure that:
You are logged on using an account with administrative privileges.
The machine where

GFI WebMonitor

is going to be installed, meets the specified system requirements. For more information refer to System requirements.
The listening port (default 8080) is not blocked by your firewall.
If you are currently using a previous version of

GFI WebMonitor

, you can upgrade your current installation while at the same time retaining all your existing configuration settings. For more information refer to Upgrading from previous versions.
A license key is required. Register for a

GFI WebMonitor

trial to get an evaluation key or log in to the GFI Customer Area if you already have a key.
Disable third-party antivirus and backup software from scanning the installation folder of

GFI WebMonitor

.
Save any pending work and close all open applications on the machine.
On installation

GFI WebMonitor

performs a number of operations that require high CPU usage and downloads a large volume of updates. It is recommended to install

GFI WebMonitor

during off-peak hours and leave it overnight to perform these actions.
Right-click the

GFI WebMonitor

installer and choose Properties. From the General tab, click Unblock and then Apply. This step is required to prevent the operating system from blocking certain actions by the installer.
Launch the

GFI WebMonitor

installer.
Ensure you have no Windows programs running and click Next.
The installer checks if required components are installed, and automatically installs missing components.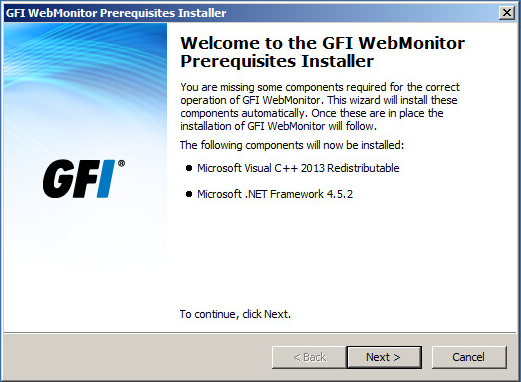 Choose whether you want the installation wizard to search for a newer build of

GFI WebMonitor

on the GFI website and click Next.
Read the licensing agreement. To proceed with the installation select I accept the terms in the license agreement and click Next.
Key in the user name or IP address of users that need administrative access to the

GFI WebMonitor

web interface and click Next. Access can be managed later on from Settings > Advanced Settings > UI Access Control

A feature that allows or denies users access to resources, for example, Internet access.

.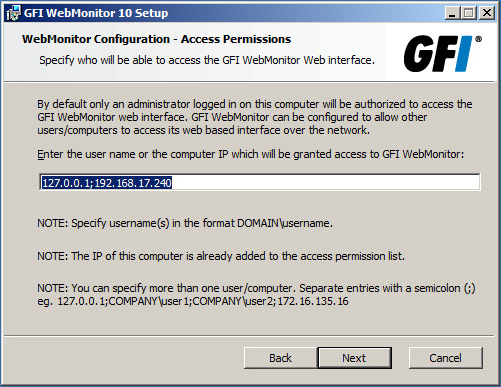 NOTE
Enter only users that need access to configure GFI WebMonitor. Do not enter IPs of normal users that will be proxied through GFI WebMonitor. More than one user or machine can be specified by separating entries with semicolons ';'
Specify the Installation Folder where

GFI WebMonitor

will be installed. The default path is C:\Program Files\GFI\WebMonitor\. Click Next.
When installing

GFI WebMonitor

 in the Microsoft Forefront TMG

Microsoft Forefront Threat Management Gateway. A Microsoft product that provides firewall and web proxy services. It also enables administrators to manage Internet access through policies. It is the successor of the Microsoft ISA Server and is part of the Microsoft Forefront line of business security software.

server, choose the type of

Microsoft Forefront TMG

 installation mode. For more information refer to Deploying GFI WebMonitor in a Microsoft Forefront TMG environment.. Choose between these two options and click Next.
Click Install to start the installation, and wait for the installation to complete.
Click Finish to finalize setup.
After the installation, the

GFI WebMonitor

Configuration Wizard is launched automatically when opening the Interface for the first time. For more information refer to Using the Post-installation Configuration Wizard.