Working with Reports
GFI WebMonitor enables administrators to access and generate reports that provide insight on Internet usage and trends.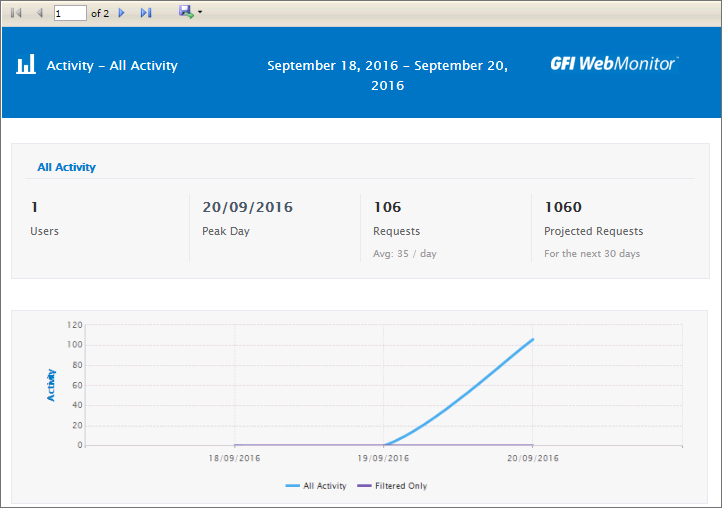 Use the reporting feature to create:
Department based reporting that can be scheduled and sent to the relevant department heads
Targeted and relevant reports based on inclusions and exclusions of users, categories and websites.
Scheduled reports distributed in various formats.
The following is a list of available report categories:
| Report category | Description |
| --- | --- |
| All | All the reports from Activity, Bandwidth and Security are displayed in this area. |
| Bandwidth | Monitor bandwidth activity on your network. Use these reports to identify non-productive traffic, download trends and usage patterns. |
| Activity | Use activity reports to gain insight into what sites users are visiting, what applications they are using and what content is downloaded to your network. |
| Security | Spot any security problems to prevent attacks to your network. The security reports give you full visibility into results of virus detections, hits to malicious websites and other security issues. |
| Starred | A list of frequently used reports. Select a report you want to mark as favorite. Click the star in top left corner of the report tile. |
| Scheduled | Any reports scheduled to run at a future date are automatically added to this list. |
| Generated | Click Generated tab in the sidebar to display a list of previously generated reports. |
To use one of the reports:
1. Go to Reports and select a report category from the left sidebar.
2. Click one of the report names to edit or click Generate to run the report.