Configure Internet browser for WPAD
After enabling WPADWeb Proxy AutoDiscovery protocol. in GFI WebMonitor, ensure that the updated Internet settings are automatically detected by a client browser:
On the client machine, go to Control Panel and select Internet Options.
Click the Connections tab.
Click LAN

Local Area Network.

settings.
Check Automatically detect settings checkbox.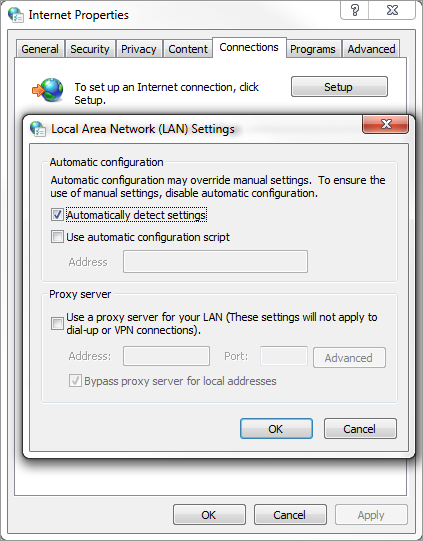 Close LAN Settings dialog.
Click OK to close Internet Options dialog.
Restart Internet browser to refresh settings.
These settings can be enforced via GPOGroup Policy Objects.. For more information refer to Configuring GFI WebMonitor machine as the Default Proxy using GPO .
NOTE
WPAD is supported by all major Internet browsers.