Location of KOFF store and debug files
I need to access the local store and debug files for the Kerio Outlook Connector Offline Edition.
Please note that if you have anti-virus installed on the client machines it is best practice to exclude the directory where the Kerio store and debug log is kept because the anti-virus could corrupt the data.
Details
Getting the debug.log file
You can get the debug.log file from the account settings (see images below for more details):
Open Start > Control Panel > Mail settings
Choose appropriate profile in case you use more profiles, or simply press E-mail Accounts... option in Mail Setup dialog.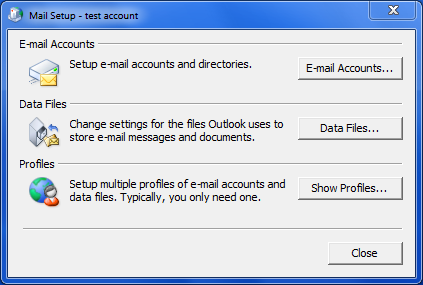 Open profile settings, choose Maintenance tab in

Kerio

Outlook Connector settings dialog, and click the Advanced... button as shown on the image below. Then click Open File Location button in the Error Reporting - Advanced Options dialog, which opens File Explorer at the location of the

Kerio

Outlook Connector data store. Be sure all debug log options are disabled during standard operational state. When debug log options are enabled, you may notice slower responces of MS Outlook with the

Kerio

Outlook Connector account configured due to excessive logging.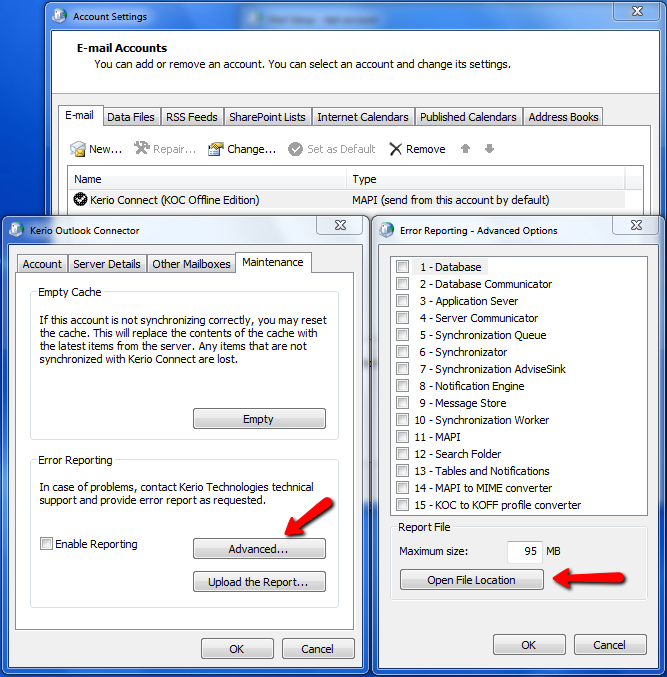 The debug.log file is in the opened folder path. In addition you can see all

Kerio

Outlook Connector profiles data store folders, where the

Kerio

Outlook Connector.
The file location of the data store
Windows XP & Windows 2000 - C:\Documents and Settings\<users>\Local settings\Application Data\

Kerio

\Outlook Connector\<profile name>
Windows Vista & Windows 7 - C:\Users\<user>\AppData\Local\

Kerio

\Outlook Connector\<profile name>
NOTE
The part of the path is hidden from view by default in Windows Explorer. In order to view these folders you will need to enable the correct view in Windows Explorer. Following links explains how to enable view of hidden files in Windows Explorer.
You are able to navigate to the data store folder of each Kerio Outlook Connector account now.
Kerio MailServer 6.7.0 or older has debug.log file stored within the 'Outlook Connector' profile folder.