Licenses in
Kerio Connect
Licenses are counted by number of users. Number of users means the number of mailboxes or accounts that are:
The following don't count as licenses:
If you want to increase the number of users allowed by your license, visit the Kerio Connect website.
Users mapped from a directory service
When you map users from a directory service, all users created in the directory service are imported to Kerio Connect. The total number of users in Kerio Connect may thus exceed the number allowed by your license.
Once the number of users who connect to Kerio Connect (i.e. create a mailbox) exceeds the number of users from your license, no other users are allowed to connect to their accounts.
Checking the number of users in your license
The Kerio Connect Administration interface displays information on the number of users you have and the number of licenses you hold.
Go to Status > Dashboard and view the License Details tile.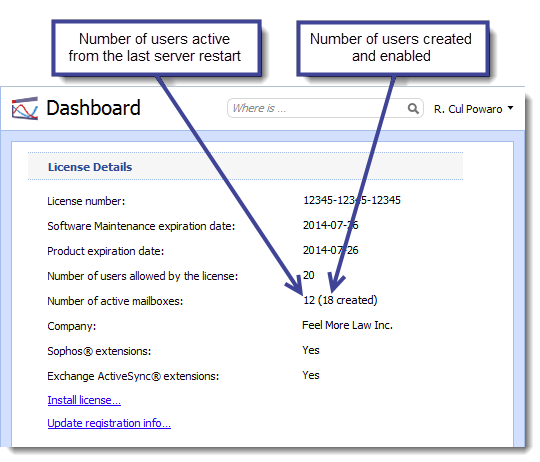 You can always remove inactive users to make space for new users in your license:
Go to the Users section.
Click arrow next to a column name and select Columns > Last Login.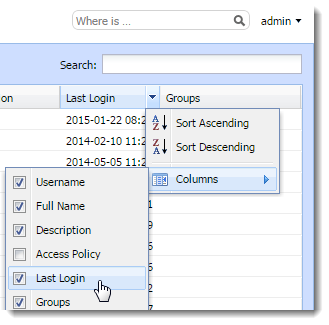 Sort users based on Last Login and accordingly remove users who do not use

Kerio Connect

.
Optional components in
Kerio Connect
Kerio Connect has the following optional components:
These components are licensed individually. For more information refer to Registering Kerio Connect.
Installing
Kerio Connect

licenses

License registration binds customer details to a license and specifies the anniversary date of Software Maintenance. You can register a license from the support area of the Kerio website during the software purchase or from the administration interface. License activation binds a license to an installation of the product. You can activate (install) a license in the dashboard of the web administration interface. For more information refer to Registering Kerio Connect.
Updating licenses
If you purchase additional users or components, your license gets updated automatically within 24 hours.