Malware Protection
Use the MalwareComposed from malicious and software, malware is a general term used for all software developed to harm and damage a computer system. Viruses, worms and Trojans are all type of malware. Protection section to remediate vulnerabilities related to malware protection identified on target computers. Amongst others, this section enables you to scan target machines for spyware, viruses and enable local firewall.
NOTE
To scan a machine for viruses and spyware, the target machine must have antivirus and antispyware installed.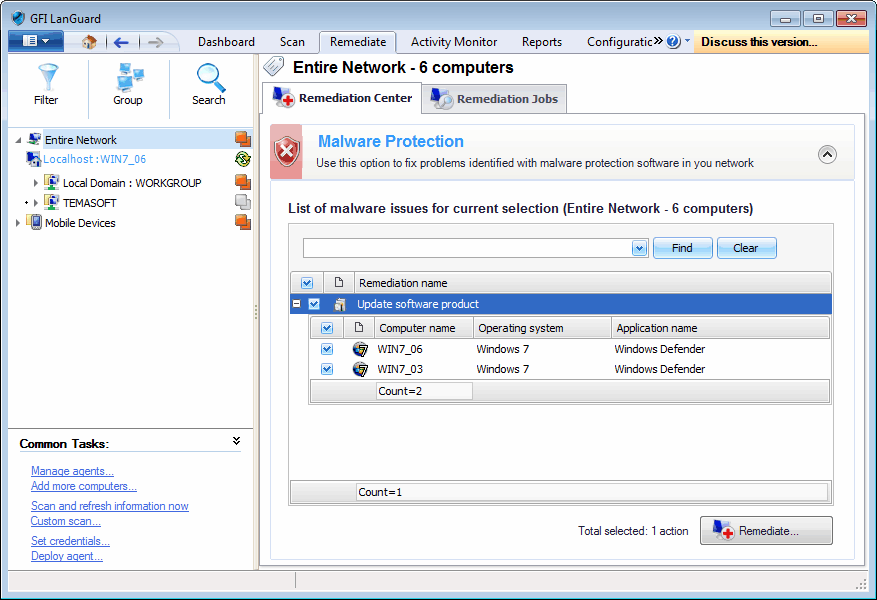 To remediate malware protection vulnerabilities:
1. Select Remediate tab > Remediation Center and click Malware Protection.
2. Locate and expand the malware vulnerability and select the computers to remediate.
NOTE
Key in a criteria and click Find to search a vulnerability. Click Clear to clear previous search results.
3. Click Remediate and configure the options described below:
4. Click OK.
5. To view the action progress, click Remediation Jobs from the right panel.