Deploying Custom Software
Apart from security updates and patches, GFI LanGuard also enables you to remotely deploy third party or custom software network–wide. Software that can be remotely deployed includes:
Security applications such as antivirus/antispyware solutions and software firewalls
Third party software updates and patches such as antivirus/antispyware signature file updates
Custom code such as scripts and batch–files
Desktop applications such as Microsoft® Office 2007 and more.
To specify which software to deploy:
1. Click on Remediate tab > Remediation Center.
2. From the computer tree, select the computers where the new software will be deployed and click Deploy Custom Software.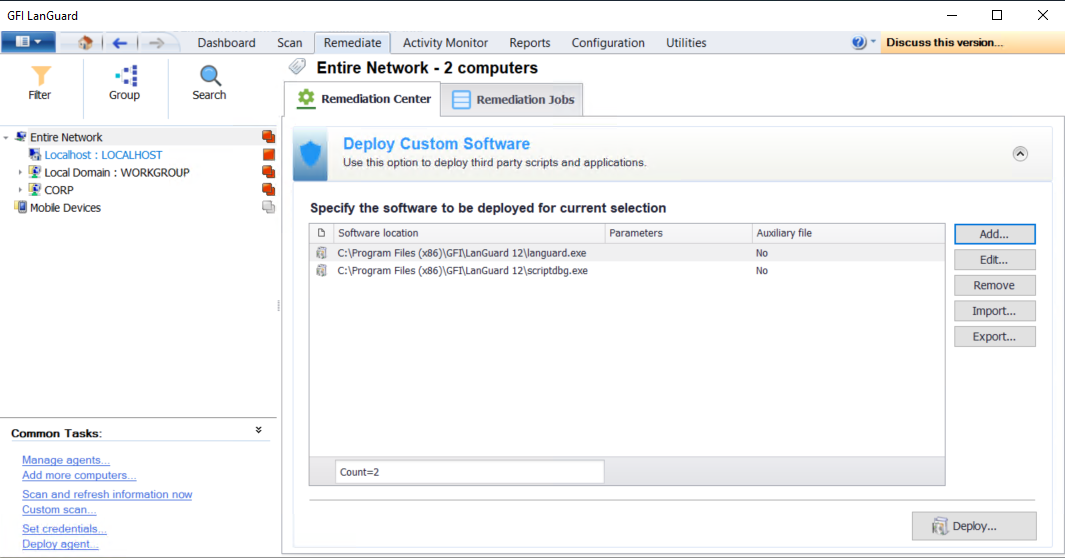 3. Use the options described in below to add the applications to deploy:
Option
Description
Add
Click this button to launch the Add custom software dialog. This dialog enables you to add an application to the list and if required configure parameters.
Edit
Select an application and click this button to launch the Add custom software dialog. This dialog enables you to modify the existing installation parameters.
Remove
Select an application from the list and click this button to remove the application.
Import
Click this button to import the applications parameters from an XML

An open text standard used to define data formats. GFI LanGuard uses this standard to import or export scanned saved results and configuration.

file.
Export
Click this button to export the applications parameters to XML file.
4. Click Deploy and configure the options described below:
5. Click OK.
6. To view the deployment progress, click Remediation Jobs from the right panel.