Using Remote Desktop Support
Through Remote Support, you can control remote computers using Terminal ServicesA service that allows connecting to a target computer and managing its installed applications and stored data. and Remote Desktop ProtocolA protocol developed by Microsoft® to enable clients to connect with the user interface of a remote computer.. Remote Support enables you to install missing patches, service packs and custom software through a remote connection.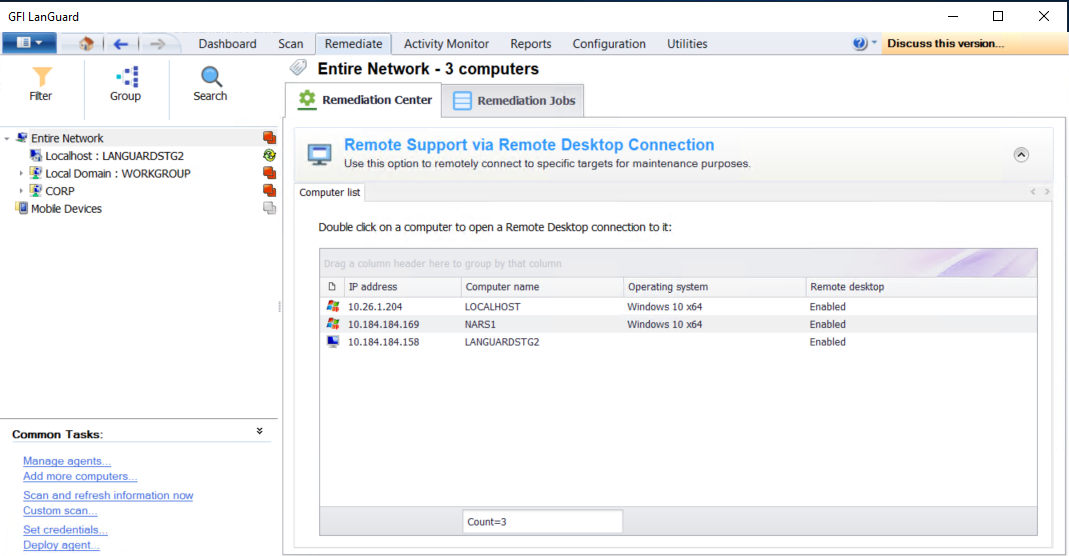 To connect remotely to a target machine:
1. Click Remediate tab and from the left panel select a computer or domain/workgroup.
2. Expand Remote Support via Remote Desktop Connection from the right panel.
3. Depending on your selection, the list contains the available computers that allow remote desktop connection.
4. Double-click a machine from the list to connect.
NOTE
To disconnect a machine, select Remediation Center >Remote Support via…, right–click a machine from the list and select Disconnect.
NOTE
To disable remote connection, right click a machine and select Disable Remote Connection.