Billing
GFI FaxMaker enables you to enforce the use of billing codes when sending faxes. Users or groups of users use a particular billing code to send faxes. This allows the administrator to monitor fax usage by codes.
To use billing codes, when sending faxes, users add the following API command to the fax:
::b=<billing number> or ::billingcode=<billing number>
Replace <billing number> with the billing number assigned to the user. For example:
::b=22343
NOTE
1. Faxes without billing codes are not sent if this feature is enabled.
2. When sending faxes via email, billing codes can be included in the email subject. Key in the command enclosed in square brackets. For example, [::b=123456].
To enforce use of billing codes:
1. From GFI FaxMaker Configuration, right-click Billing and select Properties.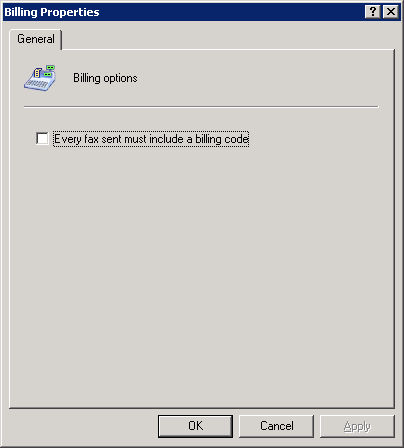 2. Select Every fax sent must include a billing code.
3. Click OK.