Received fax recipients
RoutingThe methods used by GFI FaxMaker to determine how to route faxes to internal recipients. rule transmission reports are sent by GFI FaxMaker to users configured to receive faxes that match a particular routing rule. Transmission reports provide users with the received fax data, using one of the following methods:
For each routing rule created, configure the list of users and the method to deliver the fax data: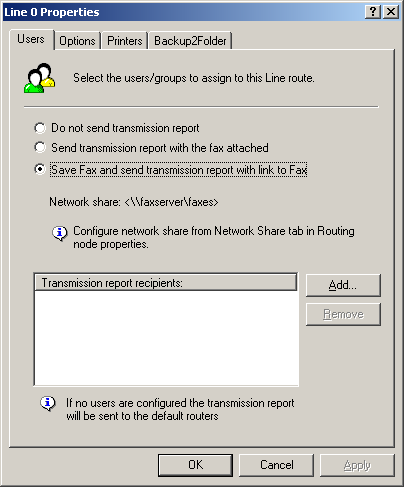 1. From the routing rule properties Users tab, select one of the following options:
| Option | Description |
| --- | --- |
| Do not send transmission report | A transmission report is not sent to users. |
| Send transmission report with the fax attached | A transmission report is emailed to the list of users, with the fax attached to the report. |
| Save fax and send transmission report with link to fax | A transmission report is emailed to the list of users, containing a link of the fax stored on a network share. For more information refer to Store incoming faxes to a network share. |
2. When sending transmission reports, click Add to specify the list of users to whom to send the report to.
3. Click Apply.