IP address configuration
The Exinda appliance allows you to configure bridges and network interfaces as required. A bridge consists of a LANLocal area network and WANWide Area Network interface. Bridges can be enabled, and roles can be assigned to an interface (Cluster, Mirror or WCCP) and IPInternet protocol settings applied.
The form displays an image showing the available physical interfaces, physical interface to I/O slot and physical interface to bridge assignments.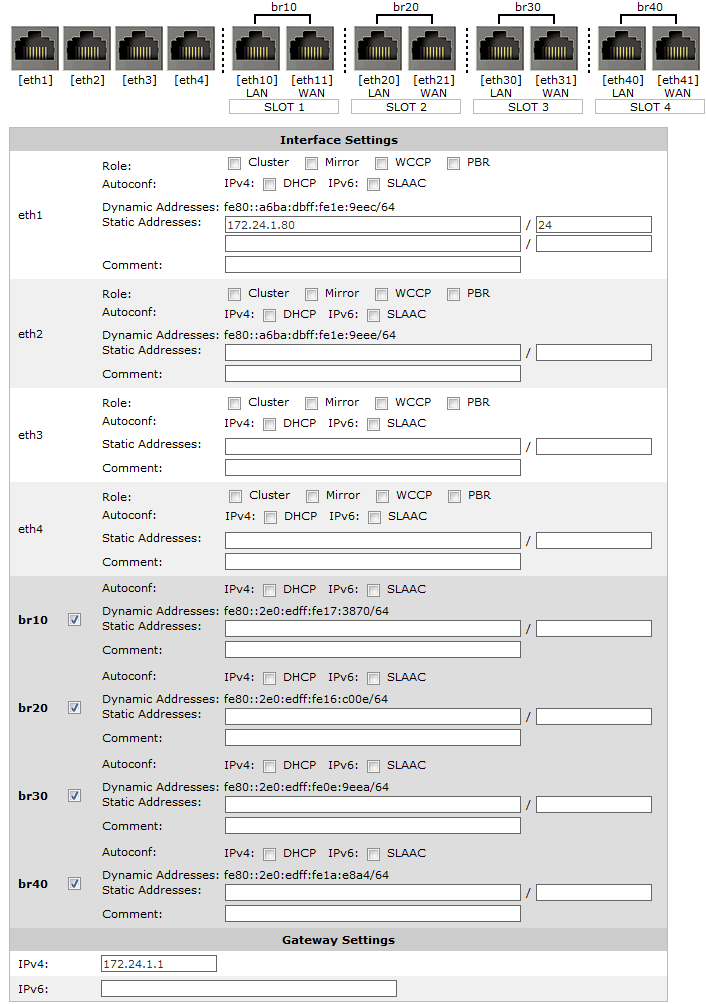 Interfaces that are not assigned to a bridge may have the following roles configured:
Cluster- One interface may be configured for Cluster internal use in High Availability (HA) environments. An interface and Cluster Master address should also be configured.
Mirror- One or more interfaces may be configured in Mirror mode. This mode of operation is used for out of path monitoring using a hub or switch mirror/SPAN port.
WCCP - One interface may be configured in WCCP mode. WCCP allows out of path Application Acceleration.
PBR- One interface may be configured in Policy-based Routing (PBR) mode. PBR allows for acceleration of only the types of traffic specified in the policy.
The DHCPDynamic Host Configuration Protocol option is enabled by default on the Exinda appliance. If a DHCP server is available, an IP address will be automatically assigned. If a DHCP address is not picked up, the Exinda defaults to the IP Address 172.14.1.57.
The VLAN configuration allows an An 802.1Q VLAN ID to be set on an interface. The VLAN ID can be between 1 and 4094.

The Cluster Master address is the external address used to access an appliance in HA environments.

Further information on Clustering/HA, Mirroring and WCCP is available in the associated How To guides.