POP3 Downloader
GFI FaxMaker can be configured to retrieve faxes and SMS for transmission from a POP3Post Office Protocol 3 mailbox. Configure the POP3 Connector to poll and download faxes from a dedicated GFI FaxMaker POP3 mailbox.
IMPORTANT NOTES
This option is not available if mail server is configured to route faxes and SMS to

GFI FaxMaker

via SMTP

Simple Mail Transport Protocol

.
Ensure that the POP3 mailbox is dedicated exclusively to

GFI FaxMaker

.

GFI FaxMaker

downloads all emails contained in this mailbox for processing and emails are permanently deleted from the mailbox after download.
The method of sending fax/SMS via email when using POP3 is different than SMTP. For more information refer to Sending faxes/SMS via a POP3 Mailbox.
Configure POP3 mailbox settings:
1. From GFI FaxMaker Configuration, right-click Email2FaxGateway and select Properties.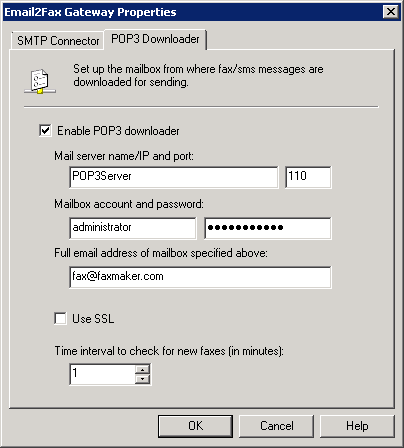 2. From the POP3 DownloaderThe GFI FaxMaker feature that retrieves faxes and SMS from a POP3 mailbox for transmission. tab, configure the following options:
| Option | Description |
| --- | --- |
| Enable POP3 downloader | Enable downloading of faxes from a POP3 mailbox. |
| | Enter the name or IP address of the mail server and the port number. |
| Mailbox account and password | Key in credentials to access mailbox. |
| Full email address of mailbox specified above | The email address of the POP3 mailbox. |
| | Instructs GFI FaxMaker to connect and communicate with the mail server using SSL. |
| Time interval to check for new faxes | Key in the frequency for GFI FaxMaker to check for new faxes in the GFI FaxMaker mailbox. |
3. Click OK.