HP Digital Sender integration
GFI FaxMaker supports HP Digital sender scanner/copier. This enables you to send faxes directly from the Digital sender device, by entering the document in the tray and dialling recipient fax number. Faxes are sent via GFI FaxMaker and the user will receive a confirmation in his mailbox. For the latest list of supported HP Digital Sender devices, refer to http://go.gfi.com/?pageid=FM_HPDigitalSender.
To send faxes from an HP Digital sender:
From the HP Digital Sender link applet, select Inbox tab.
Select Enable receive.
In Path to receive inbox, provide a directory where the HP Digital Sender will pick up the fax information files.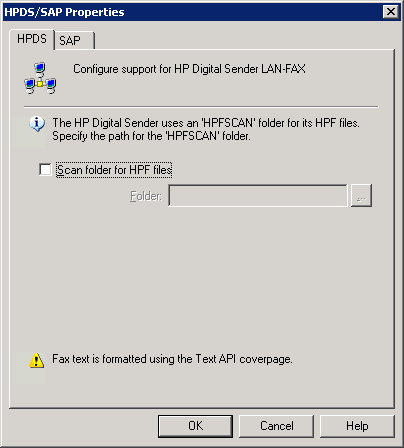 From the HPDS tab, select Scan folder for HPF files. Key in or browse to the directory specified in the HP Digital Sender app and select the HPFSCAN folder.
Click OK.
From the HP Digital sender JetAdmin utility, modify your HP Digital Sender to enable fax. Choose Other vendors with notification support as Network Fax Server.