Deploy Agents manually
To deploy agents manually:
1. Launch GFI LanGuard and select DashboardA graphical representation that indicates the status of various operations that might be currently active, or that are scheduled..
2. From Common Tasks, select Add more computers.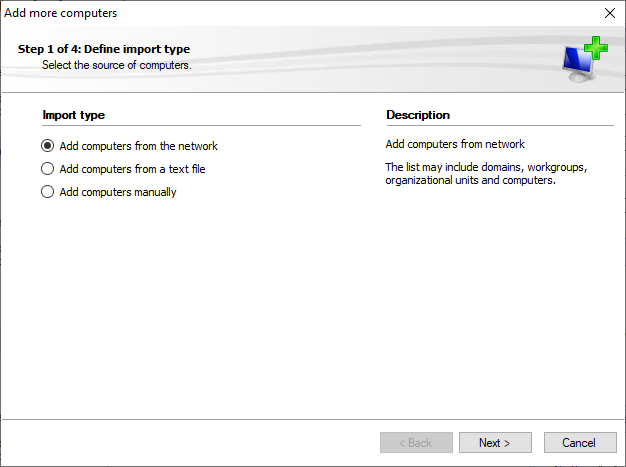 3. From the Add more computers wizard, select one of the following options:
| Option | Description |
| --- | --- |
| Add computers from the network | Select domains, organizational units and computers from the list. Use the Add domain to add a new domain to the list of computers. |
| Add computers from a text file | Import computer list from text file. Click Browse and locate the text file containing the list of computers. |
| Add computers manually | Manually create a list of computers. Use the Add and Remove buttons to add and remove computers from the list. Use the Import and Export buttons to import and export the list from\to a text file. |
Click Next.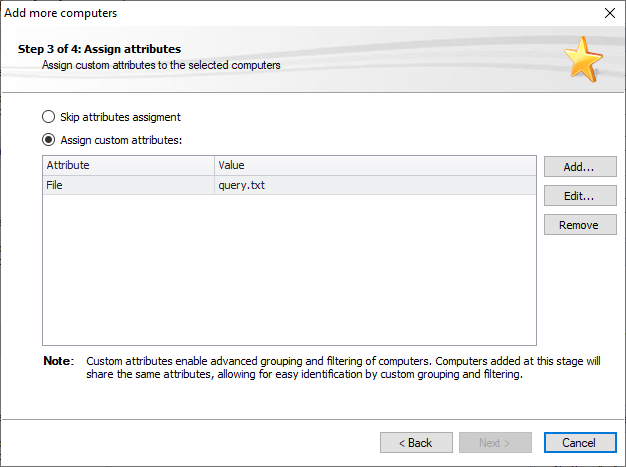 4. Custom attributes can be assigned to specific computers to ease grouping and filtering. From the Assign attributes wizard, configure the following:
Option
Description
Skip attributes assignment
No attributes are added to the computers list.
Assign custom attributes

Assign attributes to the list of computers. Click the Add button and specify the new attribute name and value.

NOTE

When importing a list of computers from a text file, GFI LanGuard automatically assigns the file name as an attribute (File) to the imported list.
5. Click Finish.
NOTE
If the selected computers have different login credentials from the GFI LanGuard machine, GFI LanGuard launches a dialog that enables you to specify valid credentials.
6. Once the computers are added to the list, click Close.
7. From the computer tree, right-click the newly added computers and select the computer where to deploy the agent and from the Agent Status click Deploy Agent.
8. Configure the Agent properties. For more information refer to Agent properties.