Switching between
Kerio Connect

Client and old WebMail
Setting a default user interface
NOTE
This article is for Kerio Connect 8.5.3 and older.
The old Webmail interface has been discontinued in Kerio Connect 9.
Kerio Connect offers two user interfaces — the new Kerio Connect Client and old WebMail.
Administrators can select a default interface for their users. These settings apply to all domains within your Kerio Connect.
In the administration interface, go to section Configuration > Advanced Options.
Go to tab

Kerio Connect

Client.
From the Default web client drop-down menu, select one of the options.
Kerio Connect

Client
Old WebMail
Last used
Confirm the settings.
NOTE
If user bookmarks, for example, Kerio Connect Client and you switch the default client to old WebMail, user will be directed to Kerio Connect Client when using their bookmark.
Switching from
Kerio Connect

Client to old WebMail

To switch from Kerio Connect Client to the old WebMail interface, click your name in the top right corner and select Old WebMail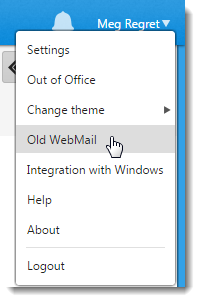 Switching from old WebMail to
Kerio Connect

Client

To switch from the old WebMail interface, click the Kerio Connect Client link in the top bar of old WebMail.