Install the Virtual Machine on Hyper-V
The Exinda Virtual Appliances have been prepared to run in a variety of virtual environments. Hyper-V provides support for hosting the Exinda Virtual Appliances in Microsoft Server 2012 and 2012 R2.
Liaise with your local Exinda representative to obtain the download files.
Unzip the ZIP file into a local folder. The ZIP archive contains three folders, which contain the following:
Snapshots – this folder is empty.
Virtual Hard Disks – contains the virtual machine file in VHDX format.
Virtual Machines – contains an XML file that in turn contains the configuration of the virtual machine.
Open the Hyper-V Manager.
In the left pane, right-click on the host machine and select Import Virtual Machine. The "Import Virtual Machine" wizard opens.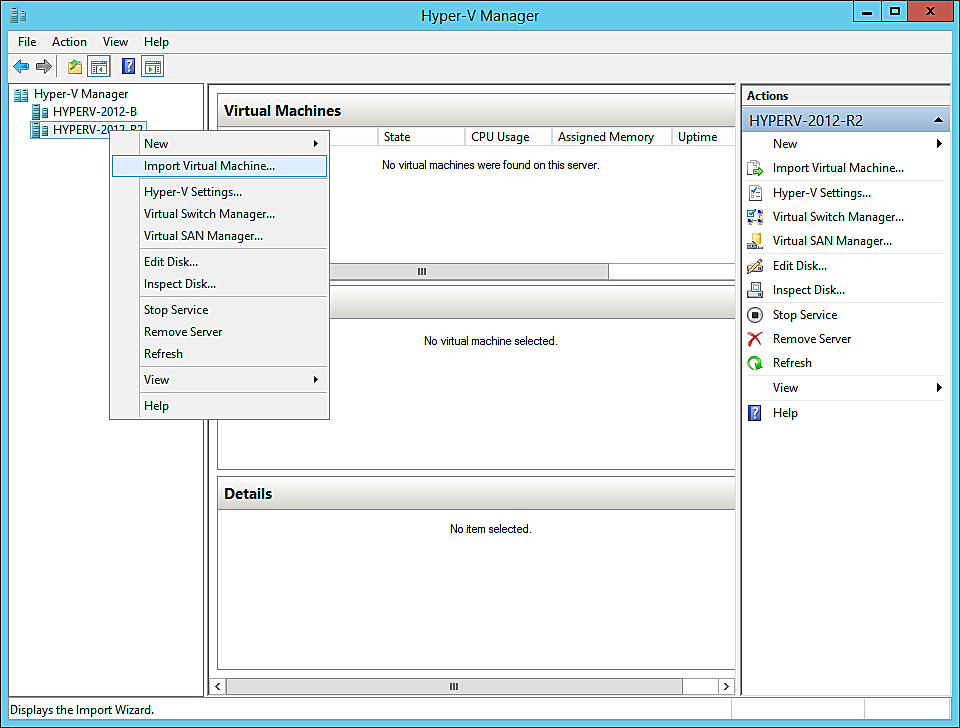 Click the Browse button and navigate to and select the local folder where you unzipped the downloaded file. The wizard then recognizes the virtual machine.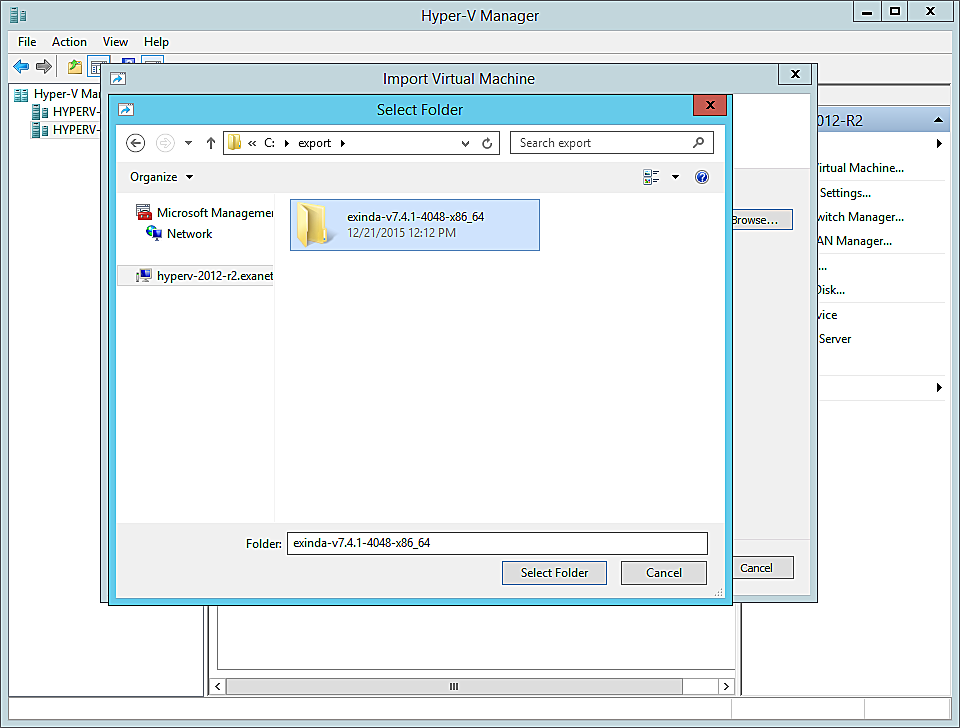 On the Import Virtual Machine dialog box, click Next. The "Choose Import Type" page of the wizard opens.
Select the Copy the virtual machine… radio button. The "Choose Folder for Virtual Machine Files" page of the wizard opens.
If you prefer not to use the default folders, select the Store the virtual machine… checkbox and for each of the three folder options browse to and select your preferred folder.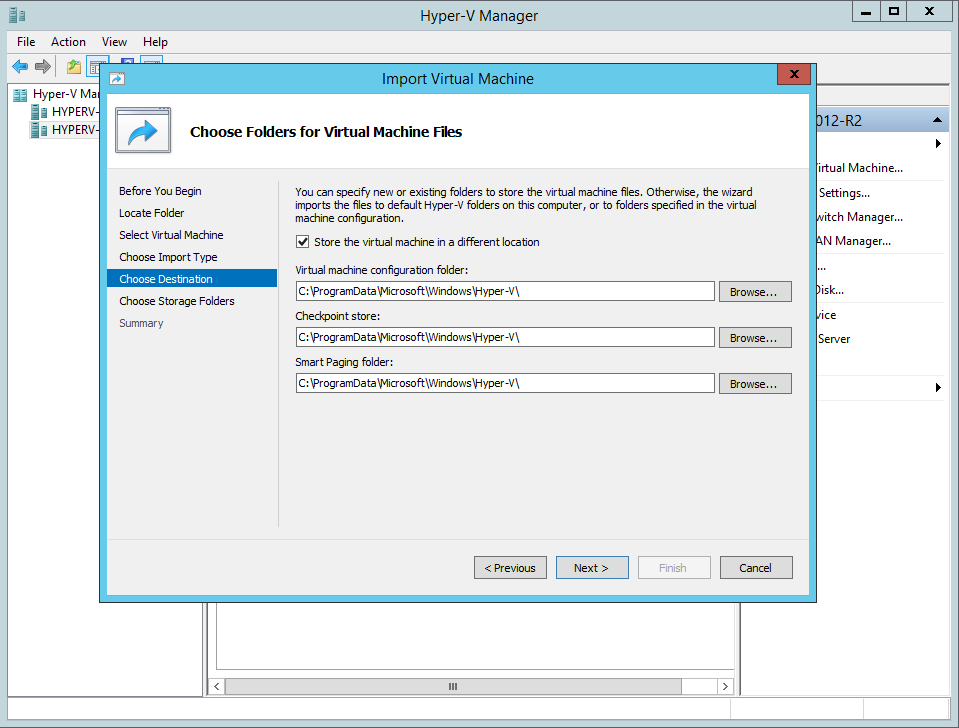 Click Next. The "Choose Folders to Store Virtual Disks" page of the wizard opens.
Click the Browse button and select the folder to use.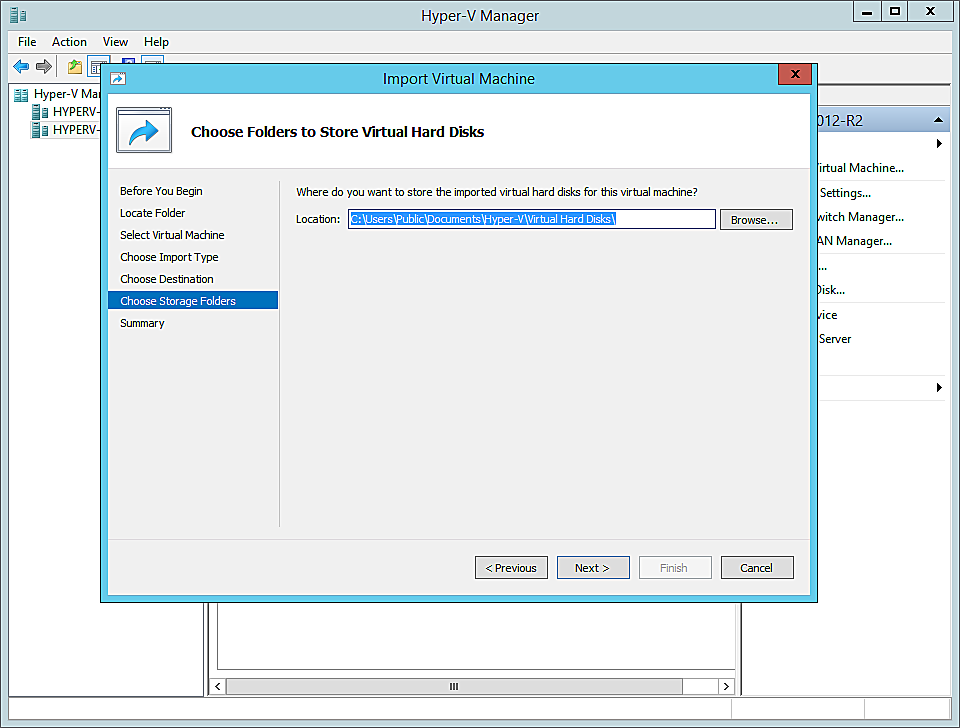 Click Next. The "Completing Impoprt Wizard" page opens.
Review the settings in the right pane. If they are correct, click Finish. The installation proceeds.
When the installation is complete, an entry for the new virtual machine appears in the Virtual Machines pane in the Hyper-V Manager.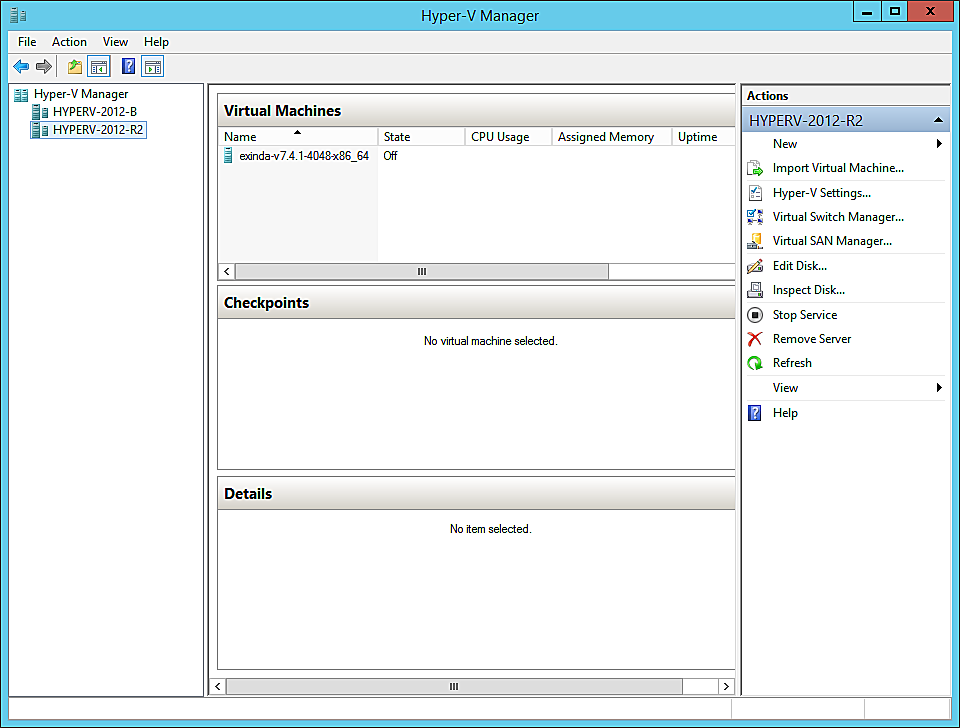 The Virtual Machine, as supplied by Exinda, may not have all of the configuration options you prefer. For example, the disk storage is confined to 50GB, which is unlikely to be sufficient for your needs. When preparing the Exinda Virtual Appliance for download, it is not possible to know just what hardware is available on the host machine. After you have installed the virtual machine, you will need to make some adjustments to the configuration using the controls in the Hyper-V Manager. See the following related tasks.
IMPORTANT
Before powering on your Exinda Virtual Appliance for the first time, you need to make sure that the virtual configuration is what you need. See the following Related Tasks to fully configure your VM.
Related Topics