Query a remote IPMI Exinda appliance
Use the IPMI Tool to query the power status, power cycle/power off, or reset a remote Exinda appliance via IPMI. The remote appliance must have enabled IPMI access.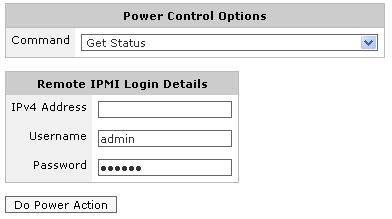 To perform an IPMI action on a remote Exinda appliance
Select the desired action from the Power Control Options drop down selection.
Enter the IPMI IPv4 Address of the remote appliance.
Enter the IPMI authentication details for the remote appliance.
The default username is admin.
The default password is exinda.
Click Do Power Action.
Example: Power cycle the Exinda appliance with IPMI address 192.168.110.61 -
ipmi power address 192.168.110.61 username admin password exinda control cycle
Example: Show the current power state of the Exinda appliance with IPMI address 192.168.110.61 -
show ipmi power address 192.168.110.61 username admin password exinda