GFI Directory

mode

When GFI MailEssentials is installed in GFI Directory mode, the connection settings are configured during the installation. At a later stage, the administrator can check or make changes to the settings from the Switchboard.

To revise the GFI Directory connection settings:
Launch the

GFI MailEssentials

Switchboard

from Start > Programs >

GFI MailEssentials

>

Switchboard

.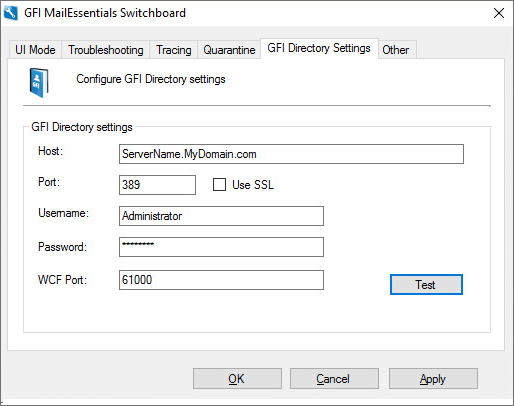 Go to the

GFI Directory

Settings tab and configure:
Option
Description
Host
Specify the host name of the

GFI Directory

server. Use FQDN for the host name.
Port

Key in the LDAP port to use to retrieve the list of users from GFI Directory. By default, LDAP uses port 389.

To connect using a secure connection, select Use SSL, which by default uses port 636. An SSL certificate is required to use this setting.

If there is a firewall between GFI MailEssentials and GFI Directory, open the LDAP port to allow communication.

Username & Password
Key in the credentials of the user which are used to connect to

GFI Directory

. Ensure that the password is not set to expire and does not change. If the password changes, this setting needs to be revised accordingly, and you may experience some incorrect behavior by

GFI MailEssentials

since it will not be able to retrieve the list of users.
WCF Port
This port is used for communication between

GFI MailEssentials

and

GFI Directory

. The default port is 61000. This port must be open on the firewall.
Click Test to ensure connection and retrieval of users from

GFI Directory

.
Click OK.
For more information about GFI Directory refer to http://go.gfi.com/?pageid=directory2.0UserHelp