POP2Exchange - Download emails from POP3 server
POP2Exchange downloads emails from a POP3 server, processes them and sends them to the local mail server. The recommendation for GFI MailEssentials is to, if possible, avoid using POP3 and to use SMTP since POP3 is designed for email clients and not for mail servers. Notwithstanding this fact, and to cater for situations where a static IP address required by SMTP is not available, GFI MailEssentials can use POP3 to retrieve email.
Configuring POP3 downloader
Go to POP2Exchange node.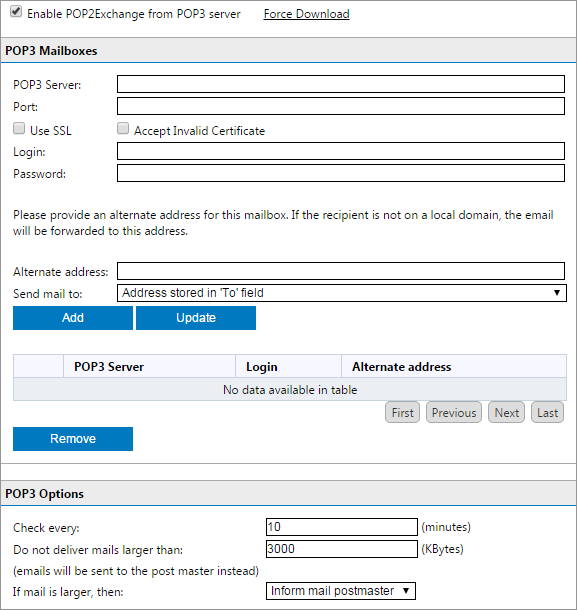 In the POP3 tab, select Enable POP2Exchange from POP3 server to enable POP3 downloader.
In the POP3 Mailboxes box, specify the details of the POP3 servers to download emails from:
Option
Description
POP3 Server
Key in the IP address of the POP3 server to download emails from.
Port
Key in the POP3 port. By default POP3 uses port 110, or port 995 when using a secure connection.
Use SSL
Select if the POP3 server requires a secure connection.
Accept Invalid Certificate
Select this option if you want to ignore unverified certificates from the POP3 server. It is recommended to unselect this option and ensure that all certificates are validated.
Login & Password
Specify the credentials to login to the POP3 mailbox.
Alternate address
If the emails in the mailbox are addressed to a recipient that is not on one of the

GFI MailEssentials

local domains, emails will be routed to this address. Ensure that this is a local address, configured on the mail server and protected by

GFI MailEssentials

.
Send mail to:

Choose:

Address stored in 'To' field: 

GFI MailEssentials

analyzes the email header and routes the email accordingly. If email analyzing fails, email is sent to the email address specified in the Alternate address field.
Alternate address: 

GFI MailEssentials

does not analyze the email headers and all emails from this mailbox are forwarded to email address configured in Alternate address.
Click Add to add the POP3 server details. Select an added POP3 Server and click Update to replace it with the newly entered settings.
Repeat the steps above to add multiple POP3 servers.
In POP3 Options configure:
| Option | Description |
| --- | --- |
| Check every (minutes) | Specify the download interval in minutes. |
| Do not deliver mails larger than | Specify a maximum download size in KBytes. If email exceeds this size, it will not be downloaded. |
| If mail is larger, then: | Choose to delete email larger than the maximum allowed size, or send a message to the postmaster. |
8. Click Apply.
Configure dial up connection options
Go to POP2Exchange node and select the Dialup tab.
Select Receive mails by Dial-Up or Dial on Demand.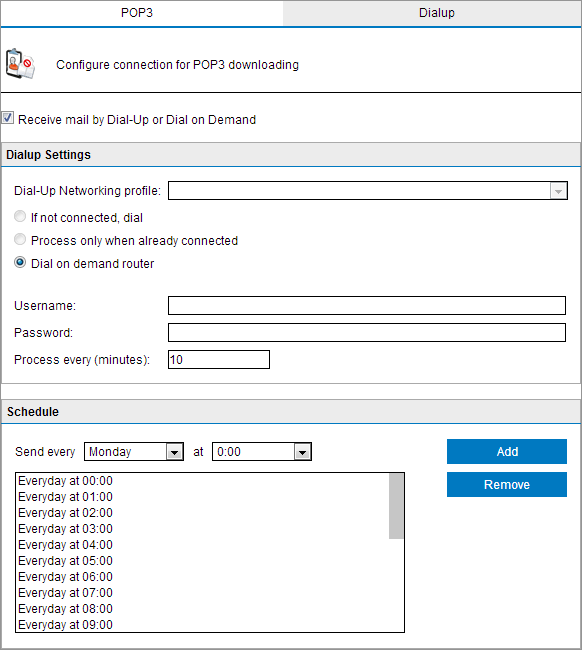 Select a dial-up networking profile and configure a login name and password. The following options are available:
Option
Description
Dial-Up Networking profile
Choose the Dial-up Networking profile to use.
If not connected, dial

GFI MailEssentials

will only dial-up if there is no connection.
Process only when already connected

GFI MailEssentials

will only process email if a connection already exists.
Dial on demand router:
In case of an Internet connection that is automatically established (such as a dial on demand router) select this option.

GFI MailEssentials

will pick up email at the specified interval without triggering a dial-up connection.
Username & Password
Enter credentials used to logon to your ISP.
Process every (minutes)
Enter the interval in minutes.
In the Schedule area, specify the hours when

GFI MailEssentials

should dial-up to pick up email.
Click Apply.