Performing initial configuration in
Kerio Connect
Before you start using Kerio Connect, you must perform an initial configuration to configure the basic parameters for Kerio Connect. These parameters include:
The wizard creates special files where the server configuration is saved.
Configuration files
During the initial configuration, the following configuration files are created:
The default location of these configuration files is:
Windows: C:\Program Files\

Kerio

\MailServer
Mac: /usr/local/kerio/mailserver
Linux: /opt/kerio/mailserver
NOTE
On Mac OS X and Linux systems, files can only be maintained if the user is logged in as the root user.
Configuring initial parameters
NOTE
You can change all the settings from the initial configuration wizard later in the administration interface.
Open the following address in your web browser: https://kerio_connect_server:4040/admin
Select a language for the initial configuration wizard and click Next.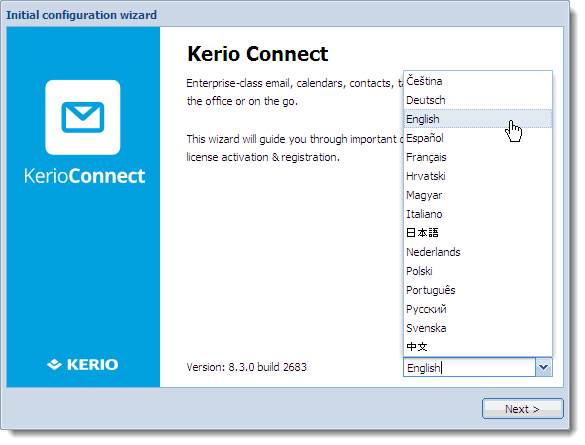 NOTE
This language gets set as the default language.
Accept License Agreement and click Next.
Specify Internet hostname and Email domain.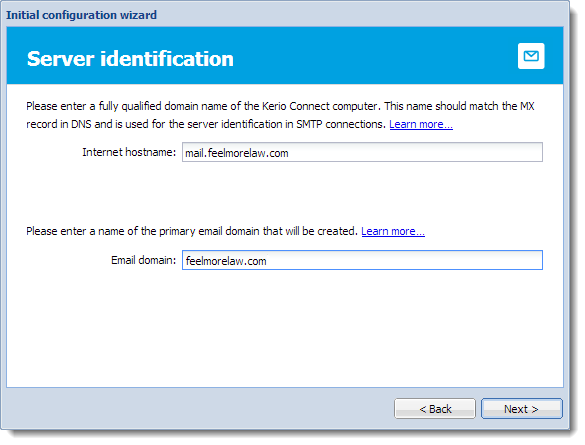 Click Next.
Set a username and password for an administration account and click Next.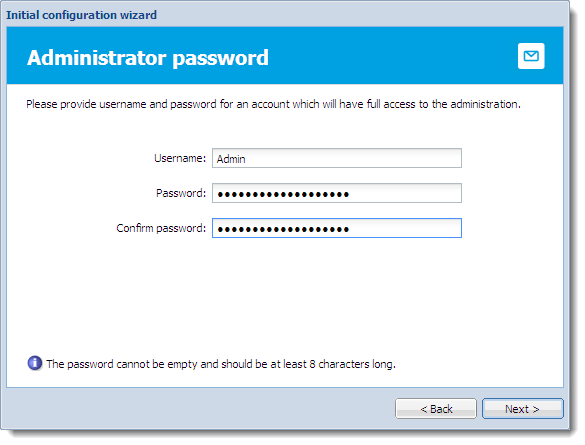 To manage your

Kerio Connect

from the MyKerio cloud service, select Allow remote administration from MyKerio

Web-based application for monitoring and managing appliances of Kerio products.

and click Next. To go to MyKerio immediately after you finish the wizard, select Open MyKerio and add this appliance.... For more information about MyKerio, read Adding

Kerio Connect

to MyKerio.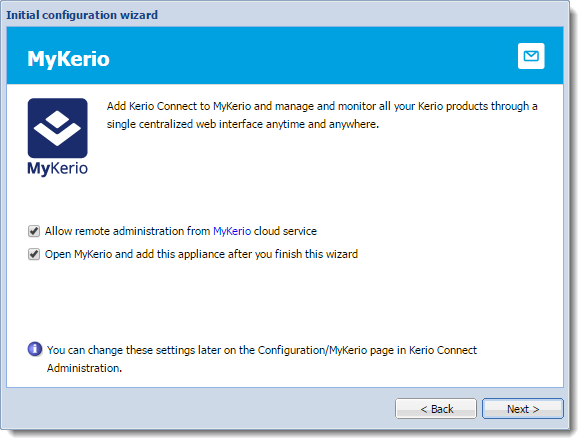 Set a directory for the message store and click Next.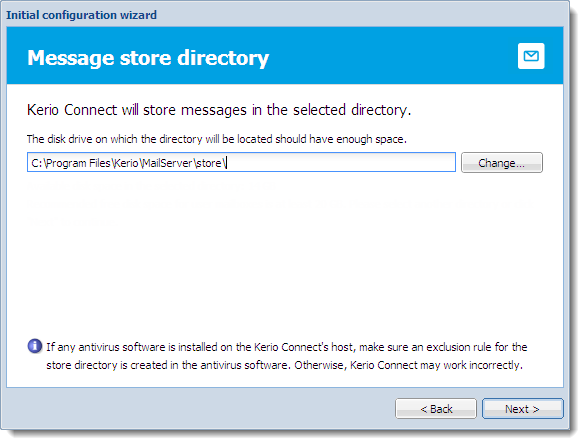 Kerio Connect verifies if you have enough free disk space available.
For more information refer to Configuring data store in Kerio Connect.
NOTE
The folder must be on a local disk. If you're using a virtual machine, define the disk as local.
Register the product or continue without the registration. Click Next.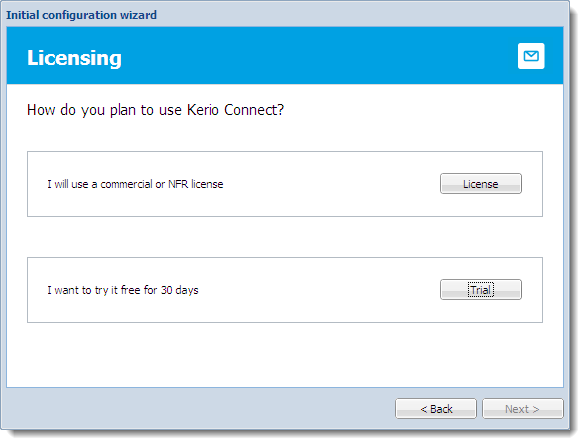 When you finish the wizard, log in to Kerio Connect administration using the administrator username and password from the wizard or log in to MyKerio.