Installing
Kerio Connect

on Mac OS X 10.10 Yosemite and above

For optimal support of Mac OS X 10.10 (Yosemite) and above, you must install the current version of Kerio Connect. Additional configuration may be necessary to address the items as described in this topic.
Sending email or performing other operations in Apple Mail application may be slower than usual
Apple Mail application in Yosemite introduces a new option in your account settings to regularly attempt secure authentication. This secure authentication attempt fails and results in mail processing delays if your Kerio Connect server stores passwords in SHA format or uses a directory service.
Administrators can resolve this issue by disabling the MD5 authentication methods located in Configuration > Security > Security Policy.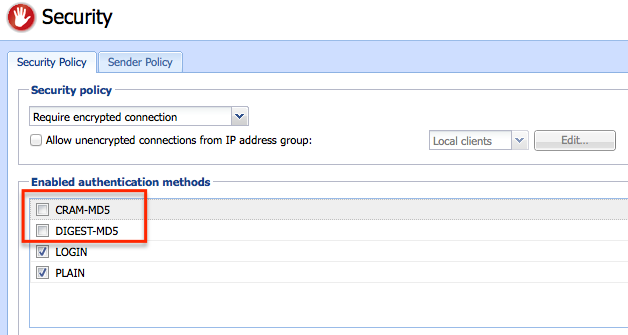 You can resolve this issue by disabling the option Automatically detect and maintain account settings in your account settings. This setting applies to both the SMTPSimple Mail Transport Protocol - An internet standard used for email transmission across IP networks. and IMAPInternet Message Access Protocol - One of the two most commonly used Internet standard protocols for e-mail retrieval, the other being POP3./POP configuration.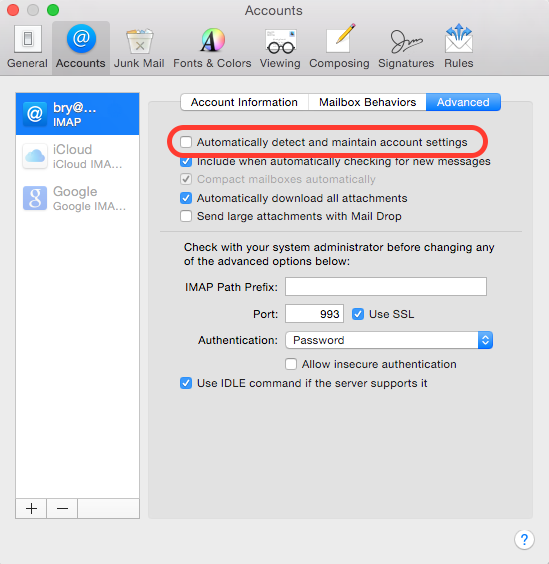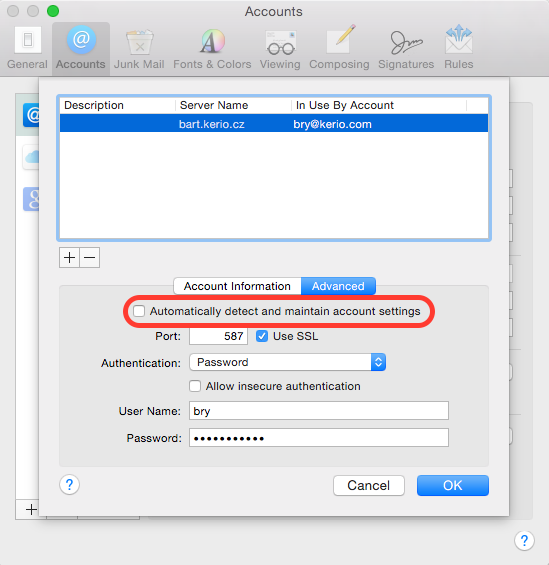 Upgrading the
Kerio Connect

server from previous versions of Mac OS X

The Mac OS X installer moves all data located in /usr to a temporary Recovered Items folder during the upgrade process.

If Kerio Connect message store is located in the default location (/usr/local/kerio/mailserver/store) this action causes significant delays in the OS X upgrade.

If there is insufficient space available in the temporary folder, the data may be removed during the upgrade. Prior to performing the upgrade, move your mail store data to different physical storage device (e.g., USB drive or network location) to prevent data loss and to expedite the upgrade process.
Installing Oracle Java 8 JDK
Kerio Connect requires prior installation of the Java 8 JDK for specific features including full text searching and instant messaging.