Local User Accounts
Local User Accounts allows you to add/remove local user accounts as well as change local user's passwords.
On your browser, open the

Exinda Web UI

(https://Exinda_IP

Internet protocol

_address).
Key-in the User and Password.
Click Login.
Click Configuration > System > Authentication > Local User Accounts.
The table at the top of the page lists the configured local users and their capabilities.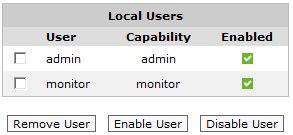 To remove local user accounts from the Exinda appliance or to temporarily disable an account, select the checkbox for the user and click Remove User or Disable User.
To add a new Local User Account, specify a username and select a capability. Click Add User. Admin users have full read-write access to the Exinda appliance. Monitor users have read-only access.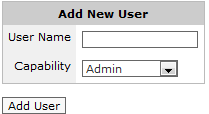 Create a password for a new user, or change the password for an existing user by selecting the username you wish to create or change the password for and enter a new password. Click Change Password.