Generating operational history reports
GFI EventsManager's operational history can be exported for further analysis and archiving purposes. Operational history messages provide administrators with information as described below:
To generate Operational History reports:
1. Click Status tab > Job Activity.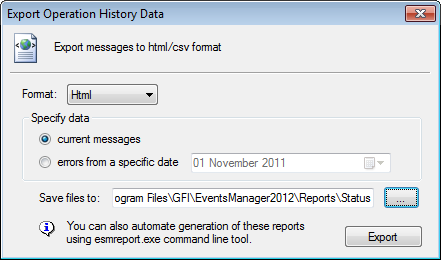 3. Specify the options described below and click Export.
Option
Description
Format

Select the report output format. Available formats are HTML and CSV.

Current messages

Export all messages displayed in Job Activity tab.

Errors from a specific date

Specify a date and export all the messages generated on that date.

Save file to
Select checkbox to specify output location. If not selected, reports are saved in the default location within the

GFI EventsManager

directory.