Generating daily digest reports
GFI EventsManager can be configured to send a summary report by email on a daily basis. The report contains a summary of the most important events collected and processed during the last 24 hours. To configure a user to receive Daily Digest emails:
1. From Configuration tab > Options. Expand Users and Groups and select Users.
2. Right-click a user from the right pane and select Properties.
3. From the General tab, ensure that a valid email address is configured.
4. From the AlertsNotifications which inform recipients that a particular event has occurred. GFI EventsManager can generate Email alerts, SMS alerts and Network alerts. tab, select Send daily report via email.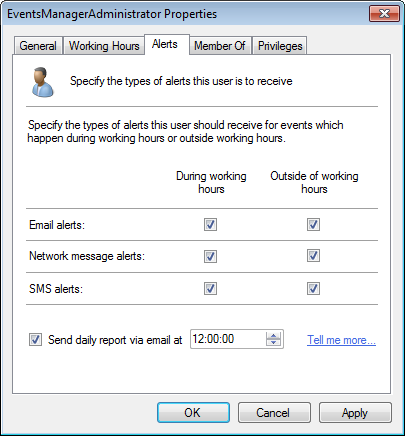 5. Configure the time when the Daily Digest email is sent.
6. Click Apply and OK.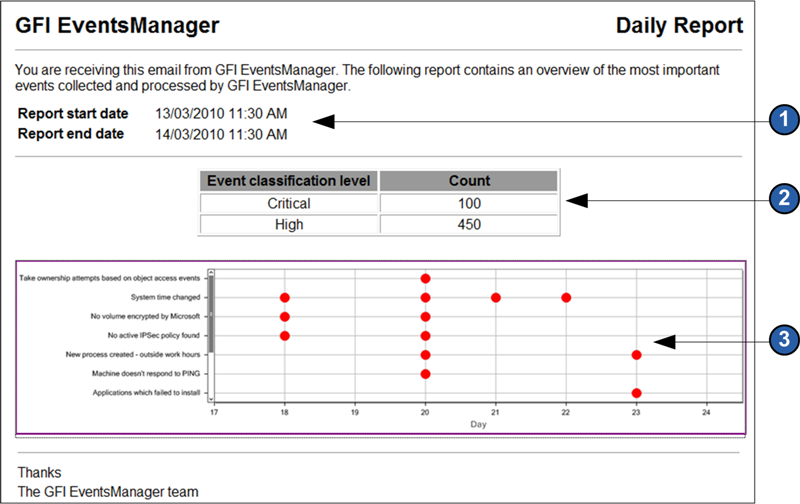 Section
Description
1
The start and end date of the report. The report displays the most important events collected by

GFI EventsManager

between the start and end date.
2
The number of Critical and High events collected in the last 24 hours.
3
This graph provides statistical information about critical events collected from all event sources in the last 24 hours.