Brooktrout SR140 (FoIP)
The Brooktrout SR140 is a software-only Fax over IP (FoIPFax over Internet Protocol) solution from Dialogic Technology.
NOTES
To use the Brooktrout SR140 (FoIP) software, you must have both a license from Dialogic Technology, activated as outlined below and a

GFI FaxMaker

license key that is enabled for Brooktrout SR140 usage. To obtain an SR140 usage license from GFI, contact sales@gfi.com.
The Brooktrout TR1034 (Boston) / SR140 driver setup contains drivers that are made by Dialogic Technology, however Dialogic Technology relies on vendors to distribute them.
To install the Brooktrout SR140 follow these steps: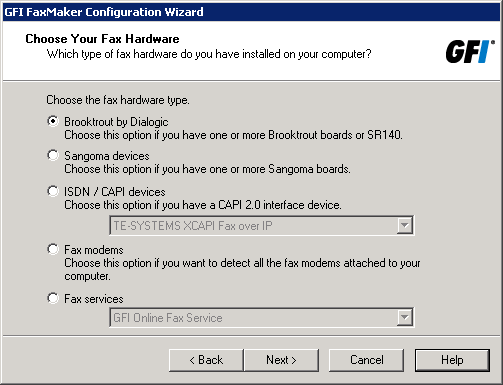 Run the wizard to install the Brooktrout drivers.
On completion, run the Brooktrout License Manager from the Start menu to activate the Brooktrout SR140 license. Click Activate... to launch the License Activation Wizard and proceed with the wizard to request and activate license.
Open the Brooktrout Configuration Tool. from the Start menu to configure FoIP settings. to match your setup. For more information refer to the documentation available in the Help.
From the Start menu open the FaxMaker Brooktrout Configuration GUI to confirm that you have a valid SR140 usage license both from Dialogic Technology and GFI. If the tool indicates that Brooktrout SR140 is not licensed and/or not installed, ensure that the Brooktrout license is activated and that the Brooktrout Boston Host service is started from the Services applet.
Continue and complete the

GFI FaxMaker

Configuration Wizard.
Adding Brooktrout SR140 fax lines in
GFI FaxMaker
To add Brooktrout SR140 lines in GFI FaxMaker:
Click Add... in the Lines/Devices properties dialog.
Choose any available fax line and in Device type, select a Brooktrout option depending on the number of channels required.
In the Device tab, under Card type, choose Brooktrout SR140.
Configure other line options. For more information refer to Fax Lines.