Enabling TextAPI
To enable and configure TextAPI:
1. From GFI FaxMaker Configuration, right-click Advanced > Text-API/XMLAPI node and select Properties.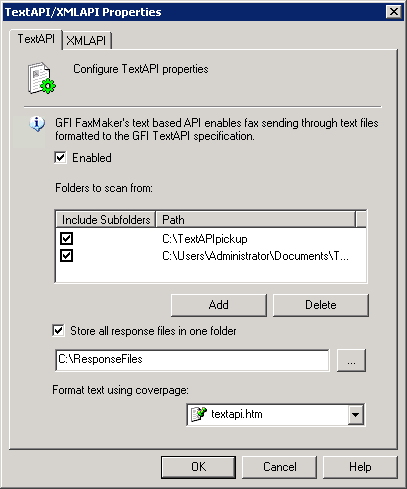 2. From TextAPI tab, configure the following options:
| Option | Description |
| --- | --- |
| Enabled | Enables TextAPI. |
| Folders to scan | Specify the folders where Text APIs will be stored for GFI FaxMaker to process. Click Add to select folders. To run recursive TextAPIs scanning on sub-folders, select Include Subfolders. |
| Store all response files in one folder | After processing a TextAPI which does not have the FROM parameter specified, GFI FaxMaker creates a response file. By default, GFI FaxMaker stores response files in the pickup folders. To store all response files in one location, select this option and specify a location. |
| Format text using coverpage | Select the coverpage to use for TextAPI faxes. For more information refer to Coverpages. |
3. Click OK.
Next step: Start creating TextAPIs. For more information refer to Creating TextAPIs. <![CDATA[ ]]>