Viewing faxes archived to a database
The GFI FaxMaker Archive Viewer enables users to view sent and received faxes. If database archiving is enabled, the tool can also be used to view fax images.
NOTE
As an alternative to this tool, you can also use the Fax Archive data report to download archive data to a CSV file. Fax image previews, however, can only be done via the Archive Viewer.
To access the Archive Viewer, go to the GFI FaxMaker installation folder and open the ArchiveViewer folder. Load GFI.FaxMaker.ArchiveViewer.exe.
The list of archived faxes is displayed, showing the most important information.
Click on a fax to show more detailed information.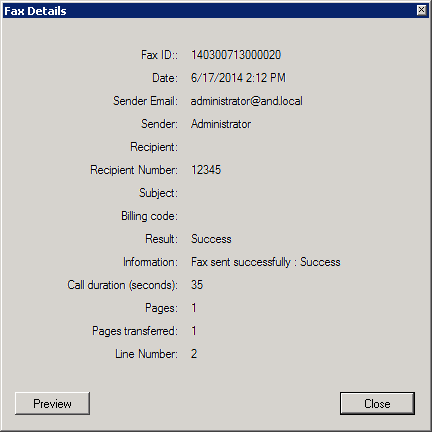 When viewing the detailed fax information you can also:
Click Preview to open the fax in the archived format.
(Outbound faxes only) Click Resend to resend the fax.
Searching archived faxes
To search through the list of archived faxes, click Filter to show the filtering pane.

Select a filtering parameter and key in or choose the data to filter. You can also:
Click Add filter to add more filters.
Click next to a filter to remove it.
When all the required filtering parameters are configured, click Apply to filter the results. The Archive Viewer shows faxes that match all the specified filters.