Configuring Roles and Permissions
GFI Archiver ships with a set of roles that can be assigned to selected users to grant them the required permissions to access specific functions within GFI Archiver. One of these roles is set as default and can neither be deleted nor modified.
After GFI Archiver is installed (or upgraded), access is controlled according to Active DirectoryA technology that provides a variety of network services, including LDAP-like directory services. or GFI Directory permissions. After assigning the first role with the 'Manage access configuration' permission to a user or group (using the GFI Archiver Roles and Permissions feature), the Active Directory or GFI Directory permissions are overridden by the roles assigned in GFI Archiver.
The initial configured set of roles shipped with GFI Archiver are:
Administrator
Auditor
Full Access and Administrator
Full Access
User (Default)
These roles can be customized as required or deleted (except for Default Role).
Viewing configured roles and permissions
From the Configuration tab, click Roles and Permissions.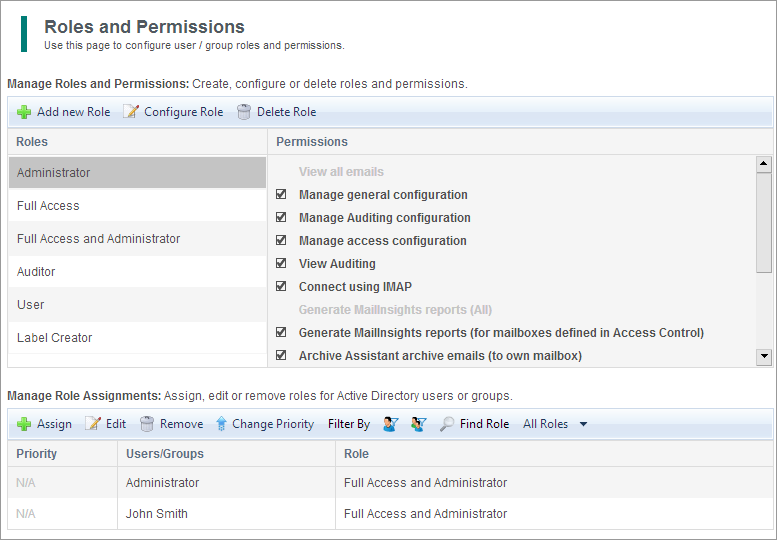 The Roles and Permissions page is divided in two windows.
Manage Roles and Permissions: Create, configure or delete roles and permissions.
The top window displays the currently configured roles. Click on each role to view the permissions set for that role.
Use the provided controls in this window to:
| Option | Description |
| --- | --- |
| Add New Role | Click to add a new role. |
| Configure Role Permissions | Highlight an existing role, then click to edit role permissions. |
| Delete Role | Select an existing role and click to remove role. Users assigned to that role are reverted back to the default role. For more information refer to Default Role. |
Manage Role Assignments: Assign, edit or remove roles for users or groups.
The bottom window shows a list of users and groups and their assigned roles.
Use the provided controls in this window to:
Option
Description
Assign
Click to assign a role to a user or group.
Edit

Highlight an existing user or group and click to edit the role assignment.

Remove
Select an existing user or group and click to remove role assignment. Users assigned to that role are reverted back to the default role.
Change Priority

Click to open the Change group priority window and change the order of how GFI Archiver checks for permissions assigned to users. Select an existing Group role assignment and click to increase or decrease priority.

GFI Archiver first checks if user is assigned a role. In that case, the individual role assignment has the first priority. If the user is not mapped to any role, GFI Archiver then checks if the user is part of a group and grants the permissions assigned to the group. The user can be part of more than 1 group. In that case, the group with the highest priority takes precedence.

NOTE

Changing priorities is only allowed for groups.

Filter By
Filter by User or by Group.
Find Role

Use Find Role button to input a user or group in a dialog and view Roles and Permissions for selected user or group.

All Roles
Select a Role from the drop down list to filter the view by Role.
See also: