Step 4: Configuring a new Mail Server to Archive using an external mailbox
Configure a new Mail server to archive in GFI Archiver. Using this connection, GFI Archiver will archive any emails forwarded to the external journal mailbox.
1. In GFI Archiver, select Configuration tab and click Mail Servers to Archive.
2. Click Add.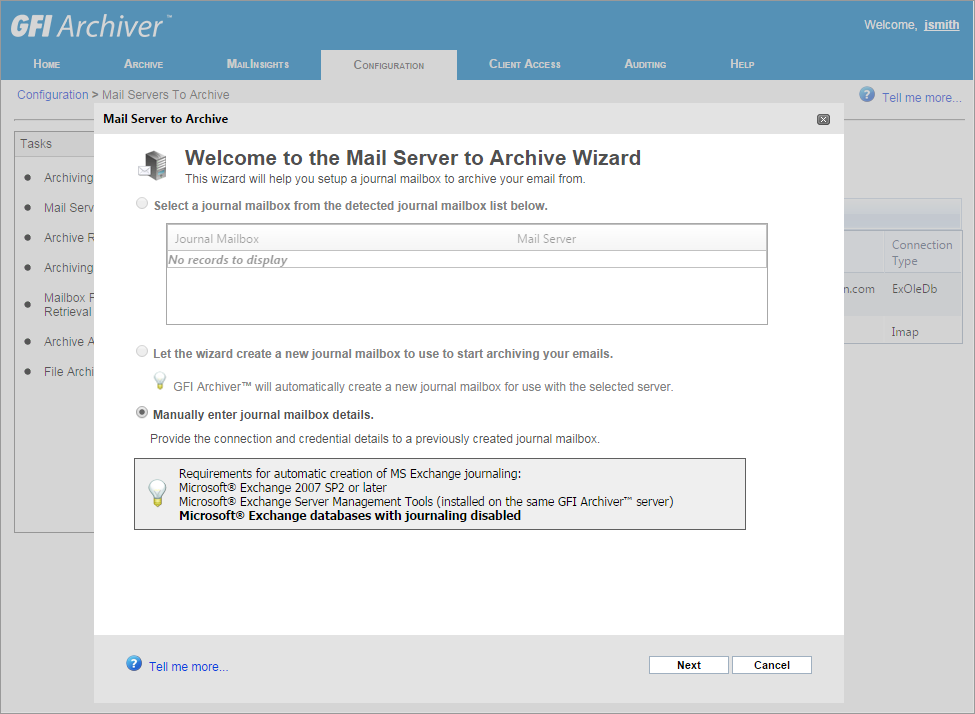 3. Select Manually enter journal mailbox details.
4. Click Next to continue setup.
5. Key in the required details to connect GFI Archiver to the new Journal MailboxA directory or folder used for receipt, filing, and storing messages of emails.:
| Option | Description |
| --- | --- |
| Mail Server | Type the name of the server where the journaling mailbox is hosted, for example, if using an outlook.com external mailbox use imap-mail@outlook.com |
| Connect using: | Select IMAPInternet Message Access Protocol as the connection method used to connect to the new Journal Mailbox. |
| IMAP Port | Change the port number according to the settings of the third party email provider. |
| Login/Password | Key in the full email address of the journaling mailbox as the login name (for example, journalingm@outlook.com and password to connect to the selected mail server. |
| Folder | Defines the default folder that is used to journal emails. Use the default value. |
6. Click Next.
7. Click Finish.
See also: