Adding new fax lines
NOTE
You can add the maximum number of lines supported by your fax device, up to the GFI FaxMaker limit of 128 lines.
1. Navigate to GFI FaxMaker Configuration > Lines/Devices > Properties and click Add….
2. When adding new fax modems after installing GFI FaxMaker, click Detect in the Lines/Devices dialog to attempt automatic detection and add them to the list of devices.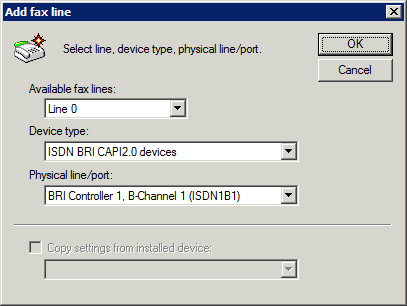 3. Specify the following details:
| Setting | Configuration |
| --- | --- |
| Available fax lines | Select one of the available fax line numbers. This is used as a reference to that particular line. |
| Device type | Specify the type of fax device used. |
| Physical line/port | Select the channel or port to configure. |
| Copy settings from installed device | To copy the settings of a previously configured fax line, select this option and specify the fax line to copy settings from. |
Click OK.
4. From the Device tab in the line properties dialog, configure:
Device Type

Settings

ISDN

ISDN BRIBasic Rate Interface CAPI2.0 devices

ISDN PRIPrimary Rate Interface/IP CAPI2.0 devices

ISDN type - Select the ISDN device type.
MSN

Multiple Subscriber Numbering

numbers - Enter the number to answer incoming calls for. Key in a full number entry (for example, 82733099) or a prefix number (for example, 82733 to answer all numbers in the range 82733000-8273099).
Answer All - Click to answer all incoming calls received on the ISDN channel.

Card type - Select the Brooktrout device type
Line capabilities - depending on the properties of your fax device, select the appropriate type, None, DTMF

Dual-tone multi-frequency signalling

<![CDATA[ ]]>or DID/ISDN.
Rings until answer - Configure the number of rings before answering incoming calls.

GFI Fax Modem Driver

Microsoft® Fax Modem Driver

Type - Select the Fax type.
Rings until Answer - Configure the number of rings before answering incoming calls.

NOTE: Ensure that the Fax Server role is installed and the Fax service is running from the Services applet.

Fax Services

Displays settings for the selected Fax Service line. To send faxes through an online fax provider, specify your account details in the Fax Services node. For more information refer to Fax services.

To associate a line with a DID, choose the DID number from the list. This option requires that the Fax service account is validated in the Fax services node.

IMPORTANT

Online fax services require the full recipient number, including the international dial symbol "+", the country and area codes. Do not use hyphens, spaces or dashes between any parts of the fax number.

The full recipient number is also required when sending faxes locally.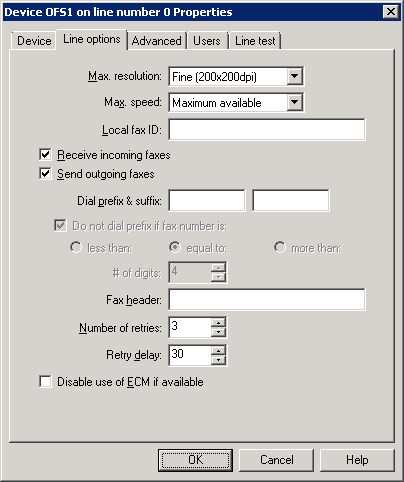 5. From the Line options tab, configure:
Option

Configuration

Set the maximum resolution for faxes sent and received on this line.

Set the maximum speed for faxes sent and received on this line. A lower speed limit will increase call duration but on an analog line, it helps to avoid loss of quality when there is noise in the telephone line.

Specify the TSIDThe transmitting subscriber identification is a string sent by the fax sender to the recipient which typically includes the fax or telephone number. value sent to recipients when sending faxes over this line. This is usually set as the line's fax number. For more information refer to Customizing the caller ID and TSID of outbound faxes.

NOTE: Some PABXPrivate Automatic Branch Exchange devices or telecommunications service providers do not accept a custom TSID when making outbound calls. In this case it is recommended to leave this field empty.

Receive incoming faxes

Send outgoing faxes

Allow transmission of faxes on this fax line.

If your lines are located behind a PBX, you can specify a dial prefix or suffix.

Do not dial prefix if fax number is

Exclude dialling of prefix when the fax number is less than, equal to or more than a certain number of digits. This can be useful when using different providers for local, national or international faxes.

Key in the text to show at the very top of a fax, for example the company name.

Number of retries

Sets the number of times GFI FaxMaker will try to re-send a fax.

Retry delay

Set a delay between retries, in seconds.

Disable use of ECMError correction mode if available

By default, GFI FaxMaker automatically corrects errors caused by noise that interferes with the transmission of a fax. Select this option to disable automatic correction.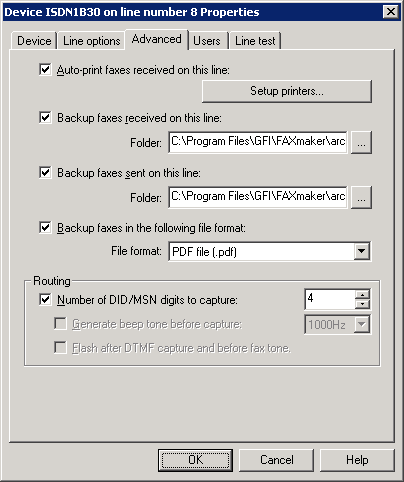 6. From the Advanced tab, configure:
Option

Configuration

Automatically print faxes received on this line.

In the Incoming faxes auto-print setup, configure how to size faxes for printing or select Nearest size to automatically detect the appropriate size to use.
Click Print setup... to select the printer to print for that particular paper size.
Click OK.

Stores a copy of all incoming faxes in a folder. Key in the folder where to store received faxes.

Backup faxes sent on this line

Stores a copy of all outgoing faxes in a folder. Key in the folder where to store received faxes.

Backup faxes in the following file format

Select the format to use when backing up faxes.

Number of DID digits to capture

Routes faxes to individual users based on the DID number. Set the number of digits to capture. For example, use 2 to capture from 00 to 99.

Generate beep tone before capture

Fax device gives a beep when answering a call as a signal to the user to enter the DTMF number. If available, it is recommended that this option is always selected. From the drop down list select the tone of the beep.

Flash after DTMF capture and before fax tone

Only used for Multitech modems. Select this option so that after successfully detecting a tone, the fax server goes 500ms on hook (flash).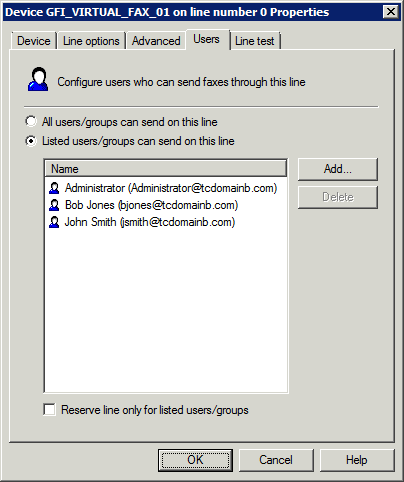 7. From the Users tab, select the users allowed to send faxes using this line. Configure:
| Option | Description |
| --- | --- |
| All users/groups can send on this line | |
| Listed users/groups can send on this line | Limits the users that can send faxes on this line. |
| Add… | Specify users/groups allowed to send faxes on this line. |
| Delete | Deletes selected users/groups from the list of allowed users. |
| Reserve line only for listed users/groups | Sets the line exclusively reserved for the selected users/groups |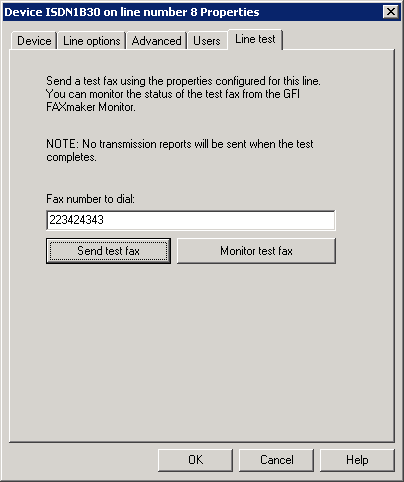 8. From the Line test tab, you can send a fax to test the line settings. Key in a fax number where to send the test fax in Fax number to dial and click Send test fax. Click Monitor test fax to launch the GFI FaxMaker Monitor in a web browser and monitor the status of the test fax. For more information refer to Monitoring GFI FaxMaker operation.
9. Click OK to save settings.
10. When changing settings for any lines/devices, it is necessary to restart the GFI FaxMaker Fax Server service for changes to take effect. Click Yes to restart.