Email search using smart phones
Within GFI Archiver, you can search for emails using a smart phone.
NOTE
This feature is supported by the following mobile Operating Systems:
Android 2.1+
Apple iPhone iOS 4
Blackberry OS5+
To perform a simple search:
1. Launch the Internet browser on your smart phone and key in the URL where GFI Archiver is located, using the following format:
http://<GFI Archiver host name>/<GFI Archiver virtual folder name>
For example:
http://mydomain.com/Archiver
2. Sign in using your credentials.
3. Key in the text to search for and click Search.
4. Browse through the displayed results using the controls provided. Results are sorted by date in descending order.
NOTE
The mobile search feature returns 10 emails per page. You can browse additional pages using the controls provided. The maximum number of results is 5000.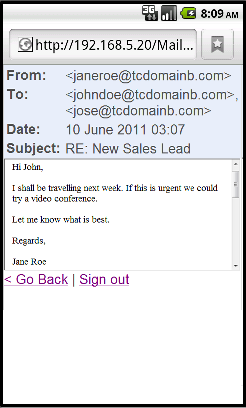 5. Click the Email subject to display the email or click View Conversation to display related emails.
NOTE
The mobile user interface is focused on searching email archives. For advanced search and browsing features, access GFI Archiver from your computer.
NOTE
The mobile user interface enables users to access ONLY their mailbox.