Adding a SPAM Retention Policy
By default, emails marked as spam are archived with all other emails and GFI Archiver does not discriminate between valid emails and emails marked as SPAM by anti-spam solutions such as GFI MailEssentials. Within GFI Archiver, you can set up a SPAM Retention Policy that enables you to delete spam immediately on archival or after a specific number of days.
Creating a SPAM Retention Policy also enables users to browse emails marked as spam and if these are not actually spam, mark them as not spam. This causes the SPAM Retention Policy not to delete such emails.
1. Select Configuration tab and click Retention PoliciesA system that enables you to control for how long to keep specific emails in your archive stores..
2. Click

.
3. From the Retention Policy wizard, select Specify a SPAM policy and click Next.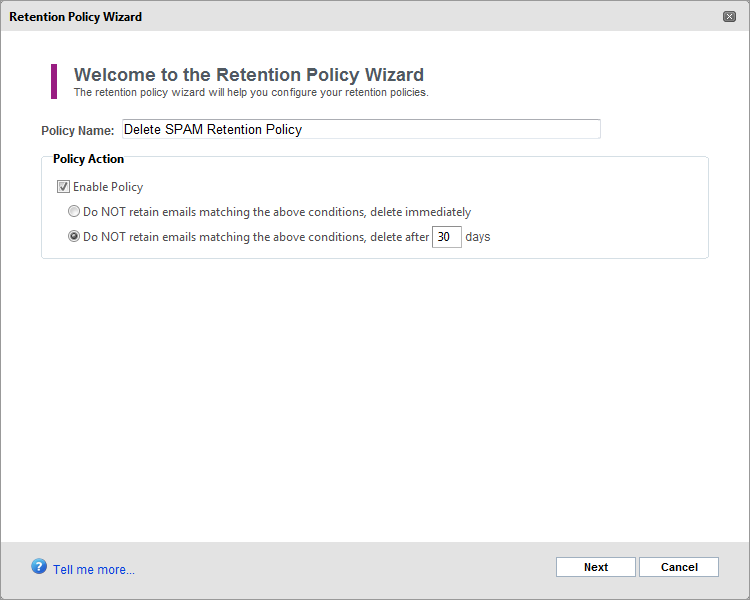 4. Fill in a name for the SPAM Retention Policy, configure whether the policy is active or not, and select the retention period. The table below shows a list of available options.
| Option | Description |
| --- | --- |
| Policy Name | Defines the name for the policy being created/edited. Key in or edit the name in this text box. |
| Enable policy | When selected, the new policy comes into effect immediately. |
| Do NOT retain emails marked as SPAM, delete immediately | Instructs GFI Archiver to immediately delete all emails marked as SPAM. |
| Do NOT retain emails matching the above conditions, delete after x days | Instructs GFI Archiver to retain all emails marked as SPAM and delete them only after the configured time elapses. |
5. Click Next and Finish to complete retention policy configuration.
See also:
Changing the order of Retention Policies