Uploading configuration files to
Kerio Operator

TFTP server
Why to use phone or other device configuration file
Obtaining the configuration file
The following instructions will come in handy, if you wish to change the configuration file of a provisioned phone:
In the administration interface, go to Configuration > Provisioned Phones.
Right-click the phone whose configuration file you wish to download.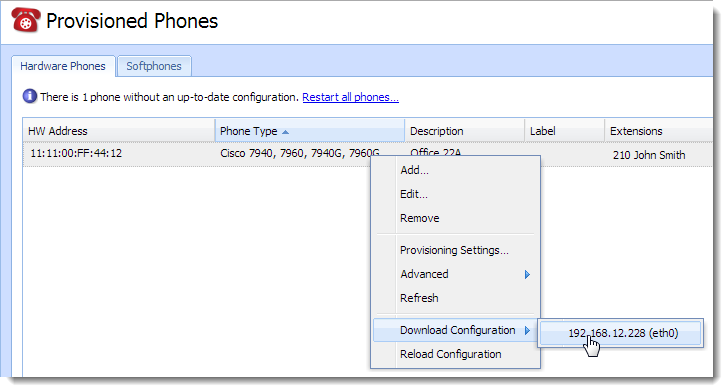 Click Download Configuration and select the interface. Each interface has a different configuration — different IP addresses.
The ZIP file with the current configuration will be automatically saved on your computer.
Uploading new or changed configuration files to
Kerio Operator
What you need
The file must be uploaded via SSH using SCP.
Locate configuration files to /var/tftp
How to enable SSH in
Kerio Operator
Follow these instructions:
In the administration interface, go to section Status > System Health.
Click Tasks while pressing theShift key.
Select Enable SSH.
Connect to

Kerio Operator

via SCP (use for example WinSCP for Windows) and upload the file via SSH using SCP. For access use username root and password of a

Kerio Operator

administrator.