Using call pickup in
Kerio

Phone

NOTE

This topic is for versions of Kerio Operator 2.4.9 and older.

Call pickup enables you to pick up colleague's ringing phone directly in Kerio Phone.

You can use call pickup if your administrator enables it in Kerio Operator. For more information refer to Configuring call pickup.
Using call pickup in
Kerio

Phone

To pick up someone's call:
Go to

Kerio

Phone. If you do not know what

Kerio

Phone is, read the Using

Kerio

Phone topic.
Jim's phone extension is ringing. Jim's favourite button is blinking.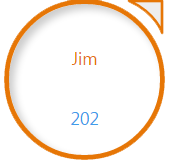 Click Jim's favorite button.

Kerio Operator

connects you to a person, who dialed Jim's extension.
To end up the call, click icon.