Downloading updates directly
GFI EventsManager enables users to configure how to automatically check for, download and install product updates.
To configure Auto Update options:
1. From Configuration tab > Options > Configurations, right-click Auto Update Options and select Edit updater options...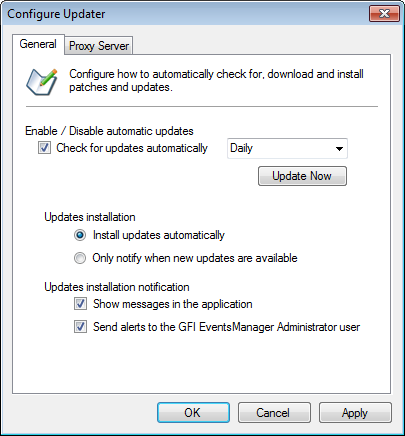 2. Configure the options described below:
Options
Description
Check for updates automatically
If selected,

GFI EventsManager

will check for updates automatically on a daily or weekly basis.
Update Now

If Check for updates automatically is not selected, use this option to manually check for updates and install missing updates.

Install updates automatically
Installs downloaded updates automatically.
Only notify me when updates are available

Available updates are shown in the Missing Updates section but are not installed.

Show messages in the application

Shows a message at the bottom of the application page. Click on the displayed message to action the updates.

Send alerts on

GFI EventsManager

Administrator user

Sends an email alert on the configured GFI EventsManager Administrator account. For more information refer to Configuring the administrator account.
3. If product updates must be downloaded through a proxy server, click the Proxy Server tab.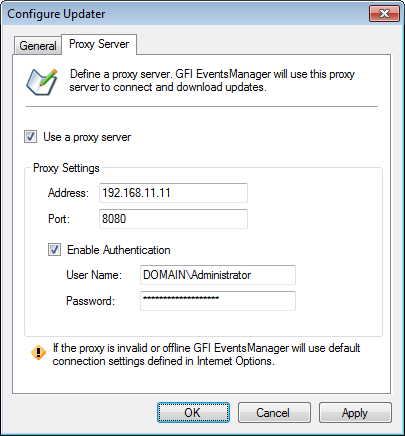 4. Select Use a proxy server and key in the proxy server address and listening port in the Address and Port fields.
5. (Optional) If the proxy server requires authentication, select Enable Authentication and key in the proxy login credentials.
6. Click Apply and OK.