User Traffic Report
The User Traffic graph provides an overview of the number of emails exchanged between selected users or groups and their contacts. It also lists unique email addresses of sent or received email.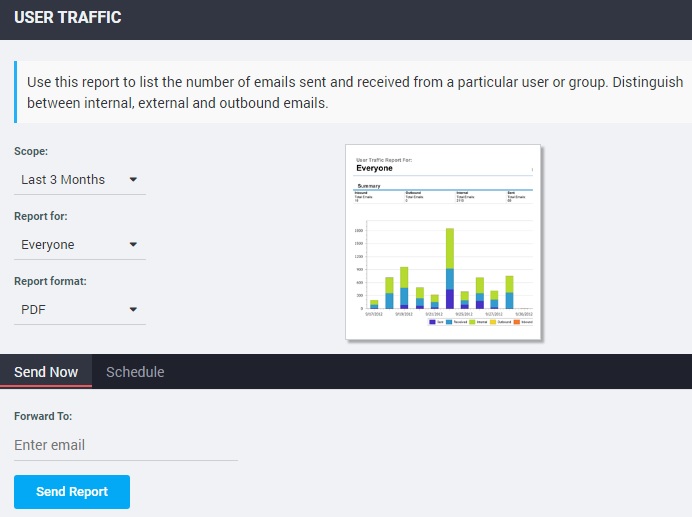 Filter the report using the following criteria:
| Option | Description |
| --- | --- |
| Scope | Specify date range or use default setting. You can only select dates in the last 6 months. |
| Report for | Select user or group. |
| Report format | Select the type of output. Reports can be exported as an attachment in PDF or Excel (.xlsx) format. |
The generated report lists communication with respect to the selected user or group. Email addresses listed in the table show the various communications exchanged between that particular email address and the selected user or group.
The table below the graph shows the following information:
| Option | Description |
| --- | --- |
| Email Address | Contact email address. |
| Sent | Total number of sent emails. |
| Received | Total number of received emails. |
| Internal | Total number of internal emails sent and received. |
| Inbound | Total number of inbound email from outside the organization. |
| Outbound | Total number of outbound email sent to addresses outside the organization. |
For further information, refer to:
Generating MailInsights reports