Phrase Search
Search for specific terms or phrases within archived emails using the Phrase Search report. The report runs search queries on whole email bodies and attachments to detect emails containing the specified terms and displays results as a pie chart or stacked line graph.
NOTE
The report detects phrases in both sent and received email for a selected user or group.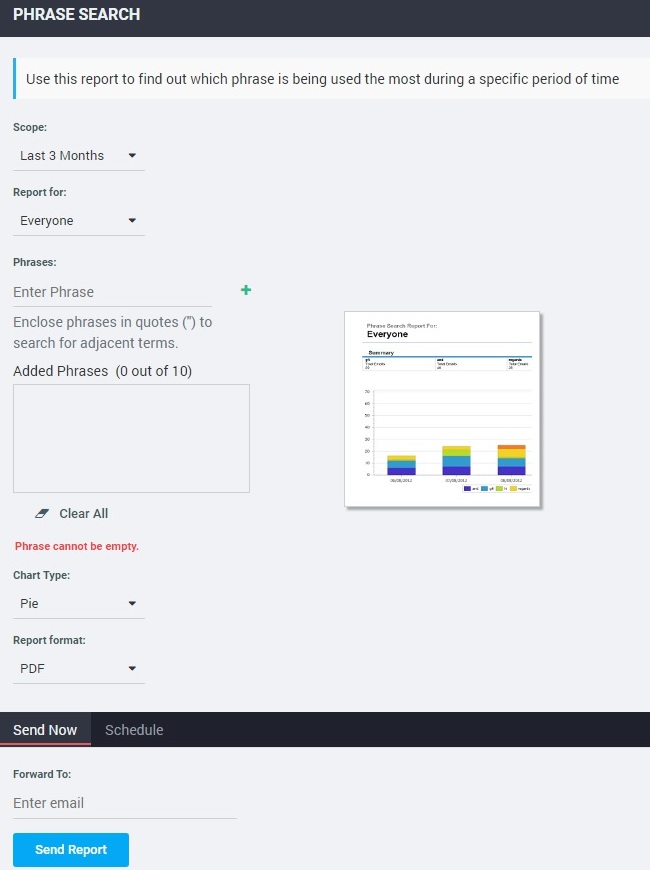 Filter the report using the following criteria:
| Option | Description |
| --- | --- |
| Scope | Specify date range or use default setting (This Month). You can only select dates in the last 6 months. |
| Report for | Enables you to choose for whom this report applies. Run report on all employees (default) or on a user or group. |
| Chart Type | Choose between a Pie chart and Stacked Bar graph. The pie chart displays the total percentage of emails for the results found while the stacked line graph displays the count of emails sent on a day-by-day basis. |
| Phrases | Phrases can be composed of 1 or more words. Use quotes (") to search for exact phrases or enter words without quotes to search for any of the words entered. A limit of 10 phrases ensures the report does not consume too many resources or take too long to run. |
| Report format | Select the type of output. Reports can be exported as an attachment in PDF or Excel (.xlsx) format. |
The results of the generated report are listed in a table sorted by date in ascending order. A report summary above the table displays the total number of emails, and the total emails that matched a phrase.
The table contains the following information:
| Option | Description |
| --- | --- |
| Date | Displays the sent date and time of the email. |
| Sender | Sender email address. |
| Subject | Displays the subject of the Email. If you have permission to view the email, you can click the entries in the subject column to display the detected email. |
| Phrase | The phrase that was found within the email. |
For further information, refer to:
Generating MailInsights reports