Email Topics report
The Email Topics report lists topics found within emails exchanged between selected users or groups and their contacts. It also lists the most common words found within the emails. This report uses the search indexes to identify the most popular used terms.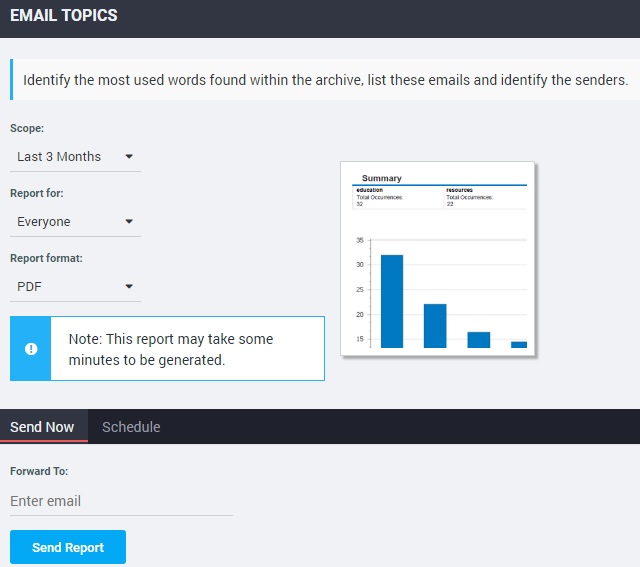 Filter the report using the following criteria:
| Option | Description |
| --- | --- |
| Scope | Specify date range or use default setting. You can only select dates in the last 6 months. |
| Report for | Select user or group. |
| Report format | Select the type of output. Reports can be exported as an attachment in PDF or Excel (.xlsx) format. |
The generated report displays the selected mailbox (belonging to a user or group) at the top of the report. A report summary displays the top 5 keywords for the selected user and the total number of emails for every keyword. A stacked column chart displays the top 10 keywords on the x-axis and the number of times these words were found on the y-axis.
Data is broken down in two tables underneath the chart as follows:
| Table | Description |
| --- | --- |
| Top Keywords for Organization | A table listing Keywords and Total Occurrences of each keyword. |
| Email Topics | A table containing the Date, Sender and Subject of every email found and the Phrase searched for. |
NOTE
The Top Keywords for Organization table displays information from archive stores that span the requested time period partly or in full. The Email Topics table displays information from emails received during the selected time period only.
For further information, refer to:
Generating MailInsights reports